Autoinjector for severe hypoglycemia debuted
The Gvoke HypoPen was designed for diabetes patients to more easily administer glucogon in an emergency situation
---
By Laura French
CHICAGO — A specialty pharmaceutical company has debuted what it says is the first-ever autoinjector to treat severe hypoglycemia. 
Xeris Pharmaceuticals announced the launch of the Gvoke HypoPen, which contains ready-to-use premixed glucogon, in a press release Wednesday. The device is designed to make glucogon for treating severe hypoglycemia easier to administer in emergency situations.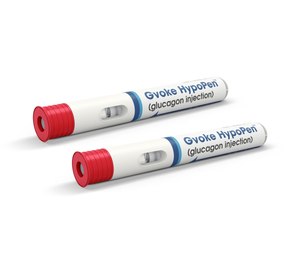 "Gvoke HypoPen allows the diabetes community to change how we approach treating severe low blood sugar events," said Bruce Bode, MD, FACE, of the Atlanta Diabetes Association in a statement. "Anyone can use Gvoke HypoPen in two simple steps. That opens the door for some patients to even give it to themselves, in certain situations. My hope is that what was once considered a crisis moment, can now become a manageable situation." 
The device can be used adult and pediatric diabetes patients aged 2 or older and is available in two different doses for patients who weigh less than 100 pounds and those who weigh 100 pounds or more.