Former Mo. paramedic pleads guilty to tampering with drugs
James Poole, 37, a former Mercy Medical Center paramedic, was accused of stealing from dozens of medication vials and replacing their contents
---
By Laura French
SPRINGFIELD, Mo. — A former Missouri paramedic pleaded guilty in federal court Thursday to tampering with medication vials at his workplace. 
Department of Justice officials announced that James Poole, 37, pleaded guilty to one count of tampering with a consumer product after being accused of stealing from dozens of fentanyl and hydromorphone vials from Mercy Medical Center ambulances and replacing their contents with saline or water solution.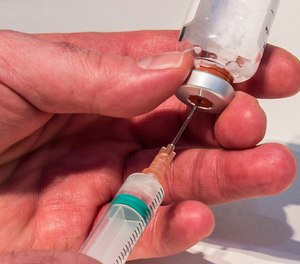 Mercy Medical Center paramedics treating a patient on Jan. 23, 2020 discovered that the fentanyl vial they were about to use to administer the drug had what appeared to be puncture marks on it, according to the DOJ. In another incident, they drew fentanyl from a vial and discovered that there was not enough fluid in the vial to administer a dose to the patient. 
Narcotics on Mercy ambulances at both its Carthage and Mount Vernon locations were subsequently examined; 26 fetanyl vials and 43 hydromorphone vials were found to have signs of tampering, according to the DOJ. Personnel were drug tested and, according to authorities, Poole tested positive for norfentanyl, a fentanyl analog. 
Investigators reported that Poole admitted that he became addicted to opioids after being injured in an ambulance accident in December 2018. Investigators report that Poole also admitted that in one case he drew a 100 mcg dose of fentanyl, administered 50 mcg to a patient, injected himself with the remaining 50 mcg after work and documented giving the patient a 100 mcg dose. 
The Food and Drug Administration's Office of Criminal Investigations conducted the investigation in the case. 
"The FDA oversees the U.S. drug supply to ensure that they are safe and effective, and those who knowingly tamper with medicines put patients' health at risk," said Special Agent in Charge Charles L. Grinstead, of the FDA Office of Criminal Investigations, Kansas City Field Office. "We will continue to protect the public health and bring to justice health care professionals who take advantage of their unique position and compromise their patients' health and comfort by tampering with needed drugs." 
Poole faces a sentence of up to 10 years in federal prison without parole. His sentencing hearing will be scheduled following the completion of a presentence investigation.