How first aid classes can enhance the public's understanding of EMS
Very basic first aid skills can be enough to save lives and allow an individual to render care while waiting for trained medical personnel to arrive
---
By Allison G. S. Knox, EMT-B, Faculty Member at American Military University
Across the United States, many individuals receive first aid training so they are equipped to handle basic emergencies. For example, an average person could learn to manage significant bleeding from an injury or provide assistance during cardiac arrest. Ultimately, very basic first aid skills can be enough to save lives and allow an individual to render care while waiting for trained medical personnel to arrive.
First aid classes are the public's main source of training for emergency care. In addition to training, first aid classes are also an opportunity for first aid and CPR instructors to educate their students about emergency medical services (EMS). It is important that the public is aware of how the structure of EMS – and the overall emergency system – is organized.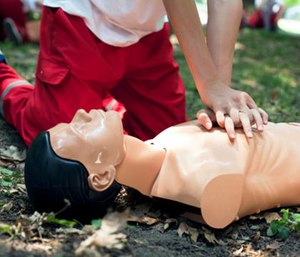 Currently EMS is a widely misunderstood system. Many jurisdictions and ambulance companies deal with numerous incidents where individuals call 9-1-1 for non-emergent issues. This happens on a regular basis because many individuals in local towns and cities do not have a strong grasp of what EMS involves. First aid courses are a great time for instructors to highlight the overall hierarchical structure of EMS and explain how protocols affect EMS in various jurisdictions.
Full story: How first aid classes can enhance the public's understanding of EMS