Study reveals gaps in states' COVID-19 guidance for EMS providers
Some states lacked specific recommendations for things such as cardiac arrest resuscitation and when to stop
---
By Leila Merrill
PITTSBURGH — Most U.S. states and territories have offered guidance to EMS agencies during the pandemic, but there was wide variability in the development and dissemination of protocols to protect frontline emergency responders and patients, according to the recently released results of a nationwide assessment.
The survey, led by a University of Pittsburgh School of Medicine physician-scientist, was published last week in the Journal of the American College of Emergency Physicians Open.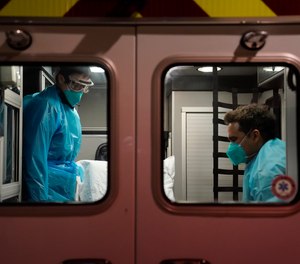 The current total number of COVID-19 deaths worldwide exceeds six million, and U.S. deaths from COVID-19 total 958,621, according to Johns Hopkins.
Almost two out of every five states or territories did not make their guidelines accessible online, the study showed.

A news release states that "states and territories without specific guidance provided less comprehensive information to frontline EMS agencies, including lack of recommendations for how to perform cardiac arrest resuscitation and when to stop, as well as care of special populations, such as children, despite these topics receiving significant media attention."
"As a society, we've survived so much. The question is what are we learning from these things? By figuring out where the best guidance comes from, it may urge states to work together sooner to bridge any gaps and integrate with one another," said Sylvia Owusu-Ansah, M.D., assistant professor in the departments of Emergency Medicine and Pediatrics at the University of Pittsburgh and EMS medical director.
The researchers looked into publicly available documents in the U.S. states and territories then interviewed states' EMS officials.
The team concluded that in order to plan for future pandemics, more work should correlate state-level guidance with clinical and operational outcomes, which would show the effectiveness of guidance on EMS responses.