N.C. county requests State Ambulance Strike Force
Onslow County EMS is implementing a mask mandate as well as daily COVID-19 testing as outages impact staffing
---
By Kerri Hatt
ONSLOW COUNTY, N.C. — Onslow County has requested the North Carolina State Ambulance Strike Force be deployed to Jacksonville as staffing levels for Onslow County Emergency Medical Services have reached a critical level. WITN reported 10 Onslow EMS employees are out due to COVID-19.
Emergency Services Director Norm Bryson noted call volume is up over 9% over the past two years, and the County is already "leaning very heavy" on some of its neighboring counties to prevent longer response times due to the staffing shortage.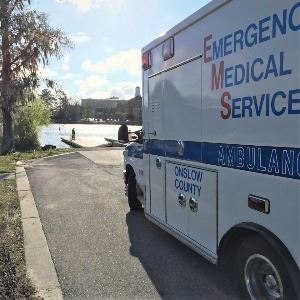 Onslow EMS is implementing a mask mandate as well as daily COVID-19 testing for personnel.
The Onslow County Sheriff, Hans Miller, told WITN several deputies have also tested positive.
North Carolina Emergency Management is currently processing the county's emergency request for help.
In the past week, the County, with a population of about 198,000, saw nearly 500 new cases and 5 deaths with a test positive percent rate of 12%.