San Diego threatens to sue Falck in financial dispute over business model
Falck officials acknowledge staffing and response-time issues, but the two sides are at an impasse over how much the city will pay the service
---
By David Garrick
The San Diego Union-Tribune
SAN DIEGO — San Diego's plan to fundamentally change ambulance service in the city has hit a roadblock that could prompt city officials to file a breach-of-contract lawsuit against private ambulance provider Falck over its staffing and response times.
City Council members said Wednesday they're ready to sue if Falck doesn't soften its financial demands in negotiations over a new model that would shift authority over billing and ambulance staffing from Falck to the city.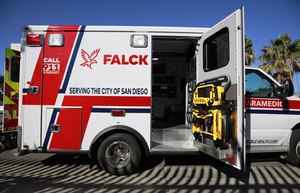 Instead of the existing model where Falck pays San Diego $9 million a year for the right to charge patients, the city will now pay Falck and other providers fees to operate ambulances and will have the right to charge patients itself.
The city's plan to shift to a new model comes after many months of Falck falling far short of the staffing and response-time promises it made to the city when it took over ambulance service in November 2021.
The company was recently fined $1.2 million for failing to meet response-time goals during October, November and December.
Falck officials acknowledge the problems and say they support the new model, but the two sides are at an impasse in negotiations over how much the city will pay Falck to operate the ambulances.
Fire Chief Colin Stowell said what Falck wants would make the new model a losing financial proposition for the city. Stowell said he won't agree to any deal that hurts the city's general fund.
"At some point, Falck is going to have to change their perspective and their business model as we work through this amendment," Stowell told the City Council's Public Safety Committee Wednesday.
"They are going to have to look at their customary and usual profit margins, corporate overhead — some of the things that are built into the unit-hour pricing they are proposing to the city," he said.
Stowell said Falck needs to realize that the dynamics of negotiations change when a company breaches its contract, which the city argues Falck has already done by having ambulances available fewer hours than the contract requires.
"This is not a customary contract," he said. "The city is stepping in to stabilize the system."
Falck officials say the city's emergency response system is "stable and strong," pointing out that on a typical day Falck is providing more hours than the ambulance provider it replaced, American Medical Response.
On the negotiations over the new model, Falck's top San Diego official, Jeff Behm, said Wednesday that a deal is close.
"We are working diligently with Chief Stowell and his team to reach a mutually-agreed-to first amendment," Behm said. "We're working to figure out what is the rate we can agree on that will give Falck reimbursement for the costs that we continue to have."
Stowell said another sticking point in negotiations is how many ambulance hours Falck would maintain, and how many would go to a second provider the city would hire.
Council members urged Stowell to negotiate aggressively.
"I am not afraid of a breach-of-contract lawsuit," said Councilmember Marni von Wilpert, chair of the Public Safety Committee.
Von Wilpert said she will schedule a special committee meeting in April to do one of two things — either approve a fully negotiated deal with Falck, or discuss the city's legal options with City Attorney Mara Elliott.
Councilmember Jen Campbell offered similar sentiments.
"The city must continue to hold its partners to its contracts," she said. "The expectations and standards of service must be met."
Councilmember Raul Campillo said he wants the Falck contract to set a new precedent for the city that lets everyone know San Diego won't be pushed around.
"Chief, continue to hold their feet to the fire on this one," Campillo said. "The city has a history when contracts go bad of being the ones who budge."
Falck says it expects to see improvement in its struggles to recruit and retain enough paramedics and emergency medical technicians to staff the 65 ambulances it operates in San Diego.
The company recently reached a tentative three-year agreement with the labor union representing its workers that includes 9 percent raises in the first year and 4 percent raises in each of the next two years.
Before the new deal, the starting annual salary for Falck paramedics in San Diego is currently $57,206.
Union leader Tony Sorci said Wednesday that the contract was ratified by membership but is contingent on Falck and the city working out a deal.
Falck officials stress that important context for the company's struggles to retain and recruit paramedics is a nationwide labor shortage.
The company recently agreed to pay Southwestern College $100,000 to train Falck EMTs to become paramedics at the company's Kearny Mesa headquarters.
"Falck fully supports a contract amendment that will deliver pay raises to our valued employees and more ambulances on the road each day, and we are committed to work with the Fire Department and the City Council to make this happen in short order," Behm said.
San Diego isn't shifting to in-house ambulance service like San Francisco and Los Angeles, where city workers operate the ambulances. Instead, San Diego will follow what's known as the alliance model, created seven years ago in Contra Costa County.
Falck and other private providers will still own and staff ambulances operating in San Diego, but the city will take control of how those ambulances are deployed. It will also bill ambulance patients and collect payment from them.
While the new model shifts financial risk from Falck to the city, proponents stress that state law gives public agencies better reimbursement rates from Medicare and Medi-Cal patients than private ambulance providers get.
Critics of the alliance model complain that it eliminates competitive bidding for ambulance services, allowing city fire officials to hand-pick the providers they will use.
Stowell estimates it will take three to four months to implement the alliance model after he concludes negotiations with Falck.
This story originally appeared in San Diego Union-Tribune.
©2023 The San Diego Union-Tribune.
Visit sandiegouniontribune.com.
Distributed by Tribune Content Agency, LLC.
McClatchy-Tribune News Service