3 EMS agencies merge, form CHS Mobile Integrated Health Care
As the health care and public safety landscapes continue to evolve, the three agencies saw an opportunity to combine resources
---
CHS Mobile Integrated Health Care
ROCHESTER, N.Y. — Chili Volunteer Ambulance Service, Inc., Henrietta Volunteer Ambulance Service, Inc. and the Scottsville Rescue Squad have merged together to form CHS Mobile Integrated Health Care, Inc. (CHS Health Care).
The ambulance agencies have been in talks since early 2014 to discuss and evaluate the long-term benefits of merging. There is a national trend with regard to combining emergency medical resources within communities across the country. Since 2012, 44 EMS agencies have stopped providing services; 26 of those closed in 2016 alone. As the healthcare and public safety landscapes continue to evolve, the local three agencies saw a clear opportunity to combine resources and fortify them into one.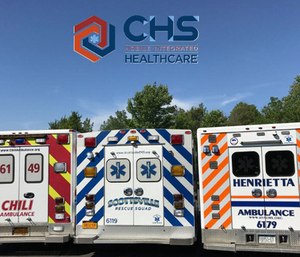 The New York State Department of Health approved the merger in December 2016 allowing the agencies to operate jointly which has been ongoing since January 2017. The New York State Attorney General has since approved the merger and transfer of assets into the newly formed "CHS Mobile Integrated Health Care" organization.
"There was a strong opportunity for us to come together and further strengthen our long-standing local presence," said Chief and CEO Reg Allen. "With so much changing in the healthcare industry, our leading goal was to maintain the long-term viability of a community-based ambulance service. We are looking forward to the future and continuing to provide the very best emergency medical services and related services within our region."
Members of the merged agency include a mix of volunteers, per diem and full-time staff from all three towns.
Benefits to merging include:
Personnel & Recruitment – By leveraging volunteers from each agency along with both Chili's and Henrietta's career personnel, CHS allows for greater opportunities for its members while offering greater volunteer opportunities for the public.
Purchasing & Buying Power – The combined company allows for more cost-effective purchasing including medical equipment and vehicles.
Improved Community Outreach – The residents of each town will benefit from greater outreach and community programs.
As was the case prior to the merger, CHS will continue to provide the highest quality ambulance service to the residents of Chili, Henrietta, Scottsville and Wheatland. The company also provides Advanced Life Support (ALS) paramedic response to the Town of Rush and the Rochester Institute of Technology.
CHS also offers a number of other services to the local community and medical professionals including:
CPR/AED Classes — Free to permanent residents of Chili, Henrietta, Scottsville & Wheatland
First Aid Classes
Community Paramedicine — in partnership with UR Medicine
New York State EMT Classes
American Heart Association Classes — ACLS, PALS
Community Outreach & Education
EMS Explorer Post
Simulation Training for EMS, physician offices, and Hospital-Based Providers
Free Blood Pressure Screenings — at local ambulance stations and at various locations throughout the towns