White House warning: What you need to know about xylazine
Knowing how xylazine presents clinically, as well as how it impacts overdose management is important for any provider responding to illicit drug overdoses
---
By Jonathan W. Lee and Courtney Kraik
Xylazine, a veterinary sedative and pain reliver, is not a new drug. In 1972, it was approved for – and remains – exclusively for use in veterinary medicine in the U.S. [1].
The first reported incidence of human toxicity was published in 1979, with scattered appearances of toxicity over the next 20 years, typically related to suicide or accidental exposure within the veterinary community [2].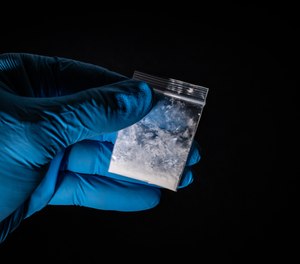 For present-day healthcare professionals dealing with two-legged patients, it has gained notoriety as its low cost and accessibility has made it a popular cutting agent for street drugs. Drugs mixed with xylazine go by street names including "tranq," "tranq dope," "Philly dope," "sleep cut" and "zombie drug" [3]. Xylazine has also been reported in stimulants (e.g., methamphetamine and cocaine, coined "speedball" [3].
According to a DEA report in October 2022, xylazine was first found as a cutting agent in Puerto Rico. That same report described a large increase in U.S. xylazine-positive deaths between 2020 and 2021. The lowest increase was in the Northeastern U.S. (103%), with the largest being a 1,127% rise in the South [3]. The DEA report was followed by a November 2022 FDA alert to healthcare providers as well as an April 2023 Whitehouse announcement designating xylazine combined with fentanyl as an "emerging threat to the United States" [1,5].
The scope of the problem does not appear to be limited to the United States. In March 2023, Health Canada released a report describing the 10-year trend of xylazine found in drug seizures (most notably, the number went from 5 in 2018 to 1,350 in 2022) [6]. In May of 2023, a case report of a 43-year-old male from the U.K. described the first xylazine-related overdose death in Europe [7].
What is xylazine?
Xylazine is an alpha-2 adrenergic agonist, working specifically in the central nervous system by decreasing dopamine and norepinephrine (NE), resulting in sedation, muscle relaxation and decreased perception of pain [8]. It shares similar chemical structure to drugs like clonidine, and its mechanism of action is similar to the sedative dexmedetomidine [9].
How does this happen? Adrenergic alpha receptors are traditionally thought of as fight-or-flight related; these are actually alpha-1 receptors. When neurotransmitters like norepinephrine are released from the end of a nerve, they cross the synaptic gap and activate alpha-1 receptors, causing the "alpha effects" we all know and have seen. On the same nerve ending that releases the norepinephrine, there are alpha-2 receptors that act as a breaker switch [9]. As the synapse fills with NE, the alpha-2 receptors get stimulated, telling the nerve that the synapse is full and to stop releasing neurotransmitters. This is how a drug that is an adrenergic stimulant can cause depression and sedation, by flooding the synapse with NE and hitting the brakes on the uptake receptors.
How does xylazine work?
Veterinary literature describes 15-30 minutes of analgesia, with sedative effects lasting as long as 1-2 hours when xylazine is given intramuscularly. This occurs at a dose range of approximately 0.5-4 mg/kg with 47-70 mg/kg suggested as the fatal dose range (LD50). Intravenously, the drug is rapidly absorbed, metabolized and eliminated with distribution concentrated in the central nervous system and the kidneys. Information in humans is extremely limited [8].
Xylazine toxicity
As a toxidrome, acute overdose is very similar to opioids. Xylazine toxicity presents with CNS and respiratory depression, as well as hypotension, bradycardia and pinpoint pupils. Additionally, patients may present with hypothermia or hyperglycemia [1]. More uncommon findings include hypotonia, dry mouth incontinence and ECG findings such as PVCs or non-specific ST segment changes [8].
The current trend is patients present as mixed overdoses, with xylazine concealed as a cutting agent with fentanyl. The drug has also been knowingly added to speedball to offset the effects of the stimulants. Deliberate exposures (inhalation, IV or IM) have been reported for both recreational purposes or self-harm. Other, less common presentations include patients with accidental exposures, usually in an agricultural or veterinary settings [10].
Chronic xylazine use may also present with severe, necrotic skin lesions, which have distinctive differences from more common infections, like abscess or cellulitis, placing the patient at risk of sepsis. The lesions are associated with IV use of xylazine, but can appear in parts of the body not related to the injection site. Chronic use may also lead to dependence, which puts the patient at risk for withdrawal if xylazine is stopped abruptly [1].
Treatment for xylazine overdose
Management is similar to that of opioid overdose and should follow the same general principles applied to all toxic exposures:
ABCs and supportive care
Minimize ongoing exposure and consider decontamination
Consider antidotes
As with opioids, airway management, oxygenation and ventilation are treatment priorities. Xylazine is not responsive to naloxone; in fact, opioid overdose refractory to naloxone should be a red flag for practitioners to consider the presence of xylazine. Bradycardia and hypotension should be treated with fluid, vasopressors and pacing as no specific antidote or intervention has proven to be effective. The most common interventions in overdose include fluid resuscitation followed by mechanical ventilation [9]. Xylazine is not detected in routine drug screening and is not thought to be responsive to hemodialysis [1,8].
Chronic xylazine users who show signs of skin lesions should be evaluated for signs of infection or sepsis in the setting of hypotension. Chronic users should also be considered at risk of withdrawal. Xylazine withdrawal has no specific pharmacological interventions. Opioid withdrawal has also been precipitated by co-ingestion with the xylazine, resulting in the patient sleeping for several hours and waking up in opioid withdrawal [8].
Understanding both how xylazine presents clinically, as well as how it impacts the management of overdose is important for any provider caring for illicit drug overdoses. More importantly, xylazine highlights a trend of illicit drugs being cut with physiologically active agents. These agents can mask the symptoms of the original drug, complicating the diagnosis, or have their own unique clinical presentation. It has become reasonable to assume all illicit drug overdoses have a poly-pharm element until proven otherwise. This requires providers to have a strong understanding of toxidromes in addition to diligent assessment skills.
---

Read next:
The post-naloxone patient: Optimizing opioid overdose refusals
Many EMS systems are evaluating ways to mitigate the risks of refusal in post naloxone patients
---
About the author
Courtney Kraik is a primary care paramedic in the Toronto area in Ontario, Canada. Her education began with an undergraduate degree in political science and English, followed by formal training in journalism and creative communications. She found paramedicine later in life after spending 10+ years working as a freelance journalist, content creator and grant writer. Her love for all things tiny human is reflected in her dedication to supporting and delivering continuing medical education in pediatric emergency care through KinderMedic to her peers and colleagues. Her passion for social determinants of health and obstacles to success pivoted from telling people's stories for entertainment to advocating for patients to facilitate change.
References
United States Food and Drug Administration. FDA warns about the risk of xylazine exposure in humans. Nov 8, 2022.
Fyffe JJ. Effects of xylazine on humans: a review. Aust Vet J. 1994 Sep;71(9):294-5. doi: 10.1111/j.1751-0813.1994.tb03448.x. PMID: 7818438.
Drug Enforcement Agency. The growing threat of xylazine and its mixture with illicit drugs: A DEA joint intelligence report. October 2022.
The White House. Biden-Harris administration designates fentanyl combined with xylazine as an emerging threat to the United States. April 12, 2023.
Government of Canada. (2023). Health Canada Drug Analysis Service. Spotlight: The Emergence of Xylazine in Canada. Longueuil (QC), 2023.
Rock KL, Lawson AJ, Duffy J, Mellor A, Treble R, Copeland CS. The first drug-related death associated with xylazine use in the UK and Europe. J Forensic Leg Med. 2023 May 22;97:102542. doi: 10.1016/j.jflm.2023.102542. Epub ahead of print. PMID: 37236142.
Ruiz-Colón K, Chavez-Arias C, Díaz-Alcalá JE, Martínez MA. Xylazine intoxication in humans and its importance as an emerging adulterant in abused drugs: A comprehensive review of the literature. Forensic Sci Int. 2014 Jul;240:1-8. doi: 10.1016/j.forsciint.2014.03.015. Epub 2014 Mar 26. PMID: 24769343.
Yu X, Franks NP, Wisden W. Sleep and Sedative States Induced by Targeting the Histamine and Noradrenergic Systems. Front Neural Circuits. 2018 Jan 26;12:4. doi: 10.3389/fncir.2018.00004. PMID: 29434539; PMCID: PMC5790777.
Ball NS, Knable BM, Relich TA, Smathers AN, Gionfriddo MR, Nemecek BD, Montepara CA, Guarascio AJ, Covvey JR, Zimmerman DE. Xylazine poisoning: a systematic review. Clin Toxicol (Phila). 2022 Aug;60(8):892-901. doi: 10.1080/15563650.2022.2063135. Epub 2022 Apr 20. PMID: 35442125.