MDMA overdoses challenge EMS response at mass gatherings
Illegal drugs and adverse environmental conditions are a potent combination at mass gathering events covered by EMS providers
---
The recreational use of 3,4-methylenedioxymethamphetamine, better known as MDMA or Ecstasy, has been associated with large scale dancing events known as raves since at the least the mid-1980s. With the evolution of the electronic dance music and social acceptance of these once-underground events, raves have become nearly mainstream, drawing tens of thousands of participants to confined spaces to party.
The death of three participants at a well-known California rave again highlights the dangers of MDMA use under adverse environmental conditions and the need for EMS providers to be ready to rapidly access and manage patients who are in real danger of death.
MDMA is an amphetamine derivative, similar to methamphetamine. It stimulates receptors in the brain to release large amounts of neurotransmitters that in turn stimulate the sympathetic symptom.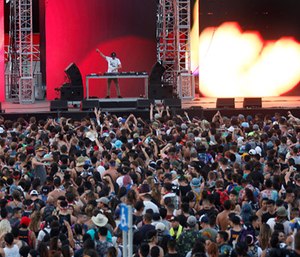 In addition to well-known adverse effects associated with the cardiac system, another condition known as serotonin syndrome can be triggered by MDMA use. Hyperthermia is an outcome associated with this effect. Combine with long hours of significant physical activity in very warm, very humid environmental conditions, and that's a recipe for dehydration, hyponatremia and heat stroke. Even patients who are young and in good health are challenged to remain healthy under those metabolic and environmental conditions.
EMS providers have to be prepared to rapidly cool and hydrate patients who have collapsed during these events. Benzodiazepine administration is recommended to stop any seizure activity, which worsens the hyperthermia. Airway management is a must as most of the patients will be unresponsive and unable to protect their own airways.
Due to the illegal nature of the drugs involved, it's not easy to determine who is critically ill at any time — victims can be moved or hidden by friends in order to avoid detection and possible prosecution for drug crimes. Since it seems impossible to screen participants who may be carrying MDMA or synthetic marijuana into a concert venue, public safety needs to adopt a harm reduction model, where it's made explicit that a participant who is suffering from an overdose is considered a patient, not a detainee. The same goes for anyone who renders aid or reports the incident quickly.
Cooling stations, easy and obvious access to medical aid, and rapid egress paths to emergency departments are on-the-ground options that might reduce the potential for harm to party goers. Appropriate training to all safety personnel to manage large numbers of affected individuals can help reduce the stress associated with mass gathering events.
Finally, it's critical that we are at our best when covering and responding to high-profile events. With that many people watching and recording, what we do not only goes a long way to support the patient, but also to promote the industry and profession as well.