Boy's love of ambulances leads to a special honor
Emerson Ambulance Service's remanufactured ambulance #5 dedicated to boy who would regularly visit station to see the old rig
---
By Greg Friese
JONESBORO, Ark. — Emerson Ambulance Service put a newly remanufactured ambulance back into service with a dedication to a boy who loves seeing the ambulances parked at the station. 
Ben Ford's, 3, curiosity in the old ambulance started with a car ride to school, according to KAIT8.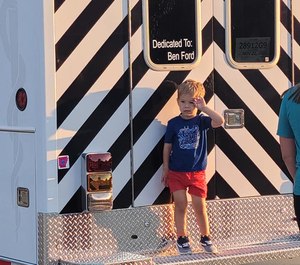 "Well, I noticed a young man coming by with his mother and father several mornings,"  Don McIntire, fleet maintenance supervisor, said.
"We just started driving by here and we would roll down the windows and he would see the number," said Cassier and Jessie Ford, Ben's parents.
Ben enjoyed seeing all the trucks but really liked seeing ambulance #5. When Emerson Ambulance Service pulled the ambulance from service for a remodel, they received questions from Ben. 
When the remanufactured ambulance was complete McIntire decided to dedicate the ambulance to Ben and his curiosity.  Ben's name is written on the rear window of the ambulance. 
See more photos of Ben and Ambulance #5 on the Emerson Ambulance Service Facebook page.