All-female Orthodox Jewish paramedic group denied ambulance application
The Brooklyn group says they want to fill a "significant void" in EMS for Orthodox Jewish women in two borough neighborhoods
---
John Annese
New York Daily News
NEW YORK — An all-female Orthodox Jewish paramedic group was denied an application Tuesday night to operate an ambulance in two Brooklyn neighborhoods, setting the stage for a fight in Albany.
Ezras Nashim's members are looking to operate an ambulance to serve the needs of Orthodox women in Borough Park and Kensington.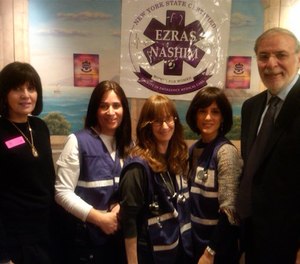 Members of the Regional EMS Council of NYC voted 12 against, and seven in favor of the group's application, according to Vosizneias.com, with five abstentions and two members of the council absent.
Because neither side received a 14-vote majority, the Albany State Council will ultimately decide on the group's application, the website reported.
Representatives of the all-male Hatzalah EMS opposed the application, as did a group of rabbis, who contended at a hearing last month that having two ambulance services covering the same area would be confusing.
According to Vosinzeias.com, four of the no votes came from Hatzalah members who refused to recuse themselves.
"They don't want women to join, at the same time they don't want women to have their own ambulance company, so that's something that I don't understand," Ezras Nashim lawyer Jim Dering told NY1.
Ezras Nashim wants to run its own ambulance to fill a "significant void" in emergency medical coverage for Orthodox Jewish women in Brooklyn, according to the group's application.
"Religious Jewish men are precluded by Jewish Law from touching unrelated women in the event of a life-threatening emergency where there are no qualified women available," their application reads. "For the past five decades, Jewish women have been given only two uncomfortable options in pre-hospital emergency care: be treated by men in their immediate community, resulting in frequently traumatic situations due to cultural norms in the community; or, turn outside the community for assistance, which does not address those concerns."
———
©2019 New York Daily News
McClatchy-Tribune News Service