Wash. county 911 study could lead to EMS dispatch regionalization
The information contained in a feasibility study done last year to determine if and how the Twin Cities could run their own 911 service would likely be offered up for use in the Lewis County-TCOMM study
---
Will Rubin
The Chronicle, Centralia, Wash.
CENTRALIA, Wash. — City officials from across Lewis County welcomed the action taken this week by the Board of County Commissioners to send a letter to Thurston 911 Communications (TCOMM) asking it to participate in a feasibility study of the potential regionalization of emergency dispatch services.
County officials decided to send the letter requested by TCOMM leadership following months of informal discussions between the two bodies, as well as talks between Lewis County staff and city officials who remain concerned about county 911 communications operations.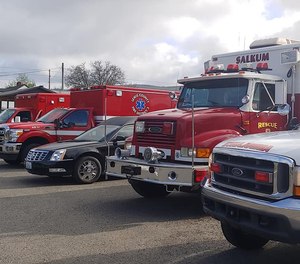 "I know last time I talked about us continuing to kick the can down the road, so thank you for picking up the can," Chehalis Mayor Dennis Dawes said Friday during the monthly Mayors Meeting hosted by the BOCC. "…I would request that as this goes through, you keep the staffs of the cities included in the process."
Dawes, who has been one of the most vocal critics of Lewis County 911 Communications as it has struggled through periods of turmoil and increased user complaints during the past few years, has been a proponent of exploring options other than the status quo. Municipalities, fire districts and other entities pay into the Lewis County system, but have little oversight power.
Under the leadership of Lewis County Emergency Management Director Steve Mansfield, the department has reported fewer complaints and more success at hitting high benchmarks related to calls for service and communication between dispatchers and first responders.
"We have consulted with many organizations, researched several different models, and are still in the process of exploring what options may be the right fit for Lewis County," reads a portion of the BOCC letter.
That has not stopped the four largest users — Riverside Fire Authority, the Chehalis Fire Department and the police departments of both cities — from exploring the formation of their own 911 communications department. Representatives from those organizations also met in 2018 with TCOMM about the prospect of regionalization.
Centralia City Manager Rob Hill said Friday that the information contained in a feasibility study done last year to determine if and how the Twin Cities could run their own 911 service would likely be offered up for use in the Lewis County-TCOMM study. That study showed that while it would be possible for the four entities to operate independent of Lewis County, the costs involved would likely be prohibitive.
"TCOMM has said they prefer a regionalized approach," Hill said. "It's almost certainly contingent on the financial viability. From the city's perspective, (the letter) a step in the right direction, because we need to know if there's something feasible there we can get behind. ... The county will do their part, and whatever TCOMM needs from us, I'm sure they'll get it."
———
©2019 The Chronicle (Centralia, Wash.)
McClatchy-Tribune News Service