Fla. governor signs law requiring silent panic alarms in schools
"Alyssa's Law," named after a Stoneman Douglas High School shooting victim, seeks to establish real-time coordination between schools and first responders
---
By Laura French
TALLAHASSEE, Fla. — Florida Gov. Ron DeSantis has signed a bill into law that requires silent panic alarms that alert first responders to emergencies in every public and charter school in the state. 
The bill, known as "Alyssa's Law," in honor of 14-year-old Alyssa Alhadeff who was killed in the Marjory Stoneman Douglas High School shooting in 2018, allocates $8 million for schools to implement the mobile alert system, according to the South Florida Sun-Sentinel.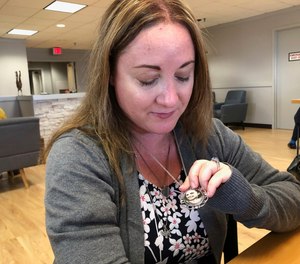 The silent alarm will take the form of an app or program on staff members' phones or computers that will alert first responders to an emergency with one tap of a button.
The alert system seeks to "ensure real-time coordination between multiple first responder agencies," according to the text of the bill. 
Implementation of the alarm system for the 2021-2022 school year will be coordinated between the Marjory Stoneman Douglas High School Public Safety Commission, the Department of Law Enforcement and the Division of Emergency Management. 
Alyssa Alhadeff's mother, Lori Alhadeff, has campaigned to implement Alyssa's Law across the country: New Jersey passed a version of the bill last year and similar legislation has also been proposed in New York and Nebraska. Alhadeff is also hoping to have the law introduced at the national level in Congress.