Clinical scenario: Teenage chest pain
A college student passes out while studying at the café — what is going on?
---
Editor's Note: Post your diagnosis in the comment section below, and the person with the best answer will receive one of our exclusive EMS1 Challenge Coins!
While volunteering on the medical first response vehicle for the fire department at your college, you are dispatched to a report of a 19-year-old female experiencing chest pain at the coffee shop on campus.  As you arrive on scene and remove your gear, dispatch advises, "Caller is reporting that the patient has lost consciousness."  
You walk into the coffee shop and are pointed to a booth where two staff members are holding up the patient to keep her from slumping over.  Her eyes are open but she does not appear to be tracking you visually as you walk up.  Her respirations are shallow and her skin is pale.  
According to the staff, she was sitting alone studying by herself for approximately four hours when she appeared to be experiencing trouble breathing.  When one of the workers at the coffee shop asked if she was OK, she requested that 911 be called and stated she was having tightness in her chest and that her face and arm felt numb.  The cashier says that she is a regular in the restaurant and her name is Beth.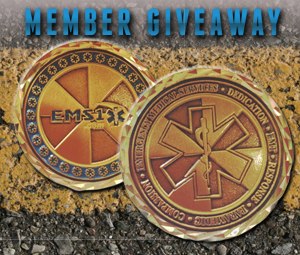 You introduce yourself and ask what is wrong.  She is able to make and maintain eye contact and points to the center of her chest.  She is breathing approximately 60 times per minute.  You ask if she has any medical problems and she shakes her head "no."  You ask about any prescription medications and she again shakes her head "no."
Your partner takes a set of vital signs and reports a blood pressure of 116/70, a heart rate of 92 and confirms a respiratory rate of 60.  He tells you that the patient's lung sounds are clear.  The pulse oximeter has a reading of 97%.  
As you prepare to relay your findings to your transporting ALS unit, ask yourself the following questions:
What is your working diagnosis?  
What is your must-not-miss diagnosis?
Are there any other history questions you should ask?
Let us know in the comments and stay tuned for the conclusion of the case next week.