ECG Solution: Winter, spring or summer
Did you pick the right treatment based off the patient's ECGs?
---
Editor's note: We asked columnist Tom Bouthillet to pick a winner to this month's challenge and he wrote: "My choice for the winner of this month's ECG Challenge is Casey Cardwell. He was the first to correctly identify that the 12-lead ECG shows de Winter T-waves! He also correctly identified the culprit artery as the LAD. His point is well taken that not everyone is familiar with this ECG pattern so it may not be correctly interpreted as a STEMI equivalent. Great job, Casey!" Read Casey's diagnosis and others' in the comment block.
 Haven't read the initial case presentation? Read: ECG Challenge: Winter, spring or summer
Let's take another look at the 12-lead ECG.

This ECG shows ST elevation in lead aVR and widespread ST depression. This would normally make us concerned about subendocardial ischemia or three-vessel disease.
However, this ECG shows an even more specific abnormality known as "de Winter T-waves." It's a pattern of 1-3 mm of J-point depression with upright, symmetrical T-waves, and it's specific for proximal occlusion of the LAD1.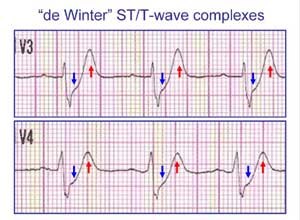 In other words, this is a STEMI equivalent, but one that is not widely known or recognized. However, it was mentioned in a recent article about optimizing ECG interpretation for cardiac cath lab activation2.
This patient did, in fact, have a proximal occlusion of the LAD. Fortunately, there were changes on serially obtained ECGs, and the patient was taken up to the cath lab after a short pit stop in the emergency department. The EMS-to-balloon (E2B) time was less than 90 minutes.
Interestingly, we had a similar-looking case about a month prior to this one. Let's take a look at that ECG.

In this case it was a proximal occlusion of the LCX, so one could argue it was really an acute posterior STEMI.
However, I can't help but note the similarity between these two ECGs. Clearly, the pattern of J-point depression and upright, symmetrical T-waves is one worth paying attention to.
References:
1. de Winter RJ, Verouden NJ, Wellens HJ et al. A new sign of proximal LAD occlusion. N Engl J Med 2008;359:2071-3
2. Rokos IC, French WJ, Mattu A et al. Appropriate Cardiac Cath Lab activation: Optimizing electrocardiogram interpretation and clinical decision-making for acute ST-elevation myocardial infarction. Am Heart J 2010;160(6):995-1003