A year before Damar Hamlin collapsed, a life was saved in N.Y. stadium parking lot
The Erie County Sheriff's Office chief medical officer, EMS providers and bystanders had a similarly quick response
---
By Michael Petro
The Buffalo News
BUFFALO, N.Y. — Exactly a year before Buffalo Bills safety Damar Hamlin was saved by team doctors on the field during a Jan. 2 game, a man was resuscitated in a similar manner in the parking lot of Highmark Stadium as the Bills played a home game.
It took a similarly quick response by the Erie County Sheriff's Office chief medical officer and his team, as well as a few bystanders, to save the life of a man suffering cardiac arrest across the street from the stadium during the Bills game against the Atlanta Falcons on Jan. 2, 2022.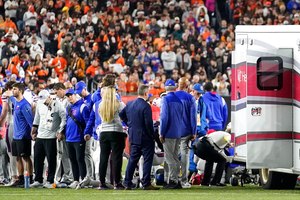 Dr. Kevin McGee was able to respond to the radio call for help in about two minutes and after using an automated external defibrillator (AED) and then initiating CPR and further care, the patient was able to regain a pulse in the parking lot and then consciousness on the ambulance ride to Mercy Hospital in South Buffalo.
McGee said when he got to the scene, firefighters were already there and someone was initially performing CPR on the man with the help of a nurse bystander. The Sheriff's Medical Response Unit was quickly on the scene as well to assist.
"I think people knowing CPR and having a willingness or desire to help, which happened in this situation with the bystanders, can never be underestimated how important it is," McGee said. "I think the whole team approach to a Damar Hamlin type of event, brings light to what people do in the community and that it is part of our daily life and something we all need to be prepared for."
McGee, who also works as the office's SWAT Team physician, was named the 2022 recipient of the Axon Rise Awards' Jack Cover Medal of Heroism Award, a national honor recognizing officers who use heroic action and quick thinking to save a life. He said being nominated by his peers is meaningful.
"The Erie County Sheriff's Office and this community are so lucky to have such a skilled and dedicated public servant as Dr. Kevin McGee," said Sheriff John C. Garcia. "His actions, and those of the bystanders, undoubtedly saved this man's life."
McGee was at his post just outside one of the stadium's gates when he heard over his radio a call for a medical emergency occurring about 75 to 100 yards away. He could see people stirring in that area and noticed a golf cart going that way, so he grabbed his equipment and sprinted toward the emergency.
As he administered care, a crowd had formed around him in the parking lot, but he was too focused to even notice.
"Initially, it was a little different and unique, but I just went right into work mode, and I don't know that I really noticed the crowd until we were pulling away a little later," McGee said.
McGee stayed with the patient through the ambulance ride to Mercy Hospital. The man was still in critical condition but wound up waking up during the ride.
"It's not one of the responses you get to see a lot — where someone goes from cardiac arrest to talking to you," he said.
---

Read next
'Outstanding response': EMS praised for quick treatment of downed Buffalo Bills player
EMS1 readers expressed their support for the on-field medical team, speculated on a possible diagnosis and wished safety Damar Hamlin a full recovery
---
Working at the stadium wasn't anything new for McGee. He's done so frequently as a doctor for the Sheriff's Office and even before that as a paramedic. A transplant from Ohio, he attended medical school in the New York City area and came to the University at Buffalo for his residency and has stayed in the area ever since.
"For those of us in the medical field, this is kind of what we do every day," he said. "This was just sort of a unique opportunity where I was assigned to this event and this just happened, and I was kind of able to run over."
Since McGee had experience in emergency medical services, he's wanted to work in pre-hospital emergency medicine and face situations such as this one. While at UB, McGee got a taste of what it was like to practice medicine in an "austere environment" and he never looked back. He's been chief medical officer for the Sheriff's Office for five years.
"I liked the challenge of working mobile and doing the most with the least amount of equipment," he said. "It's not something I ever thought I would be doing but has become such a big part of my life."
While at his post during a Bills regular season game this past season, McGee had a visitor — it was the man whose life he had helped save. They sat and talked, and the man has since come back to visit McGee a few times at Bills games.
"It's kind of become a frequent reunion at the games, which is cool," McGee said. "And he's doing great."
___
(c)2023 The Buffalo News (Buffalo, N.Y.)
Visit The Buffalo News (Buffalo, N.Y.) at www.buffalonews.com
Distributed by Tribune Content Agency, LLC.
McClatchy-Tribune News Service