Bystanders describe treating Mo. teen's gunshot wounds before EMS arrived
A medical professional and a former boy scout applied pressure to Ralph Yarl's wounds, checked his pulse and kept him company
---
By Leila Merrill
EMS1
KANSAS CITY, Mo. — After being shot in the head and the arm Thursday, Ralph Yarl, who is 16 and Black, went from house to house asking for help. Bystanders responded before EMS providers arrived.
James Lynch, 42, heard shouting outside, but after he ran over to Ralph, the teen was unconscious.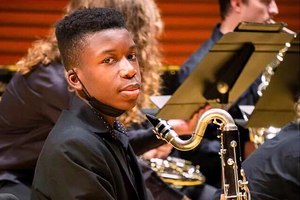 "I thought he was dead," Lynch told NBC News. "No one deserves to lay there like that … He hasn't even begun to live his life yet. He didn't deserve to get shot."
Ralph suddenly came to. Lynch then checked Ralph's wrist for a pulse before he asked him his name.
Another neighbor, who only gave a first name, Jodi, to KMBC, also heard the pleas for help and called 911. She was told not to answer the door and not to go outside because the gunman's location was unknown.
Jodi said she saw neighbors running with flashlights and went to help. The news outlet identified her as a medical professional.
The Associated Press reported that Ralph went to the wrong house to pick up his younger brothers.
"I was supposed to pick up my little brothers from their friend's house. And I went and knocked on the door and the man came to the door with a gun and shot me in the head," Jodi said Yarl told her.
"He was very alert," Jodi said. She sent her son into the house to get towels to support the teen's head and to put pressure on his wounds.
"Nobody should go through this. That was somebody's child's blood I cleaned off the front door," Jodi said through tears.
Ralph's aunt, Faith Spoonmore, said that he believes the help from nearby residents didn't come fast enough.
Jodi said she and three other people stayed with him until EMS providers arrived.
---

Read next
How EMS agencies can prepare their communities to 'Stop the Bleed'
Prehospital care experts stress the importance of the Stop the Bleed initiative, preparing bystanders to control severe hemorrhage and securing funding for a statewide program
---