Vegas school bus crash kills car driver, injures 16 children
Responders set up triage treatment areas under color-coded sun shades in a vacant lot
---
By Ken Ritter and Sally Ho
Associated Press
LAS VEGAS — Children described being tossed in terror from their seats when their school bus collided with a car, veered through a fence and toppled on its side in a vacant lot Thursday in Las Vegas.
"I was scared and all I could think was to close my eyes," 13-year-old Angelo Marquez said.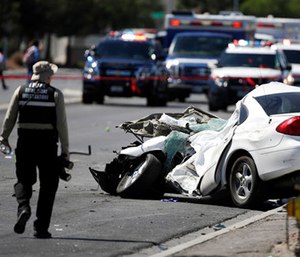 The wreck killed the driver of the passenger car and critically injured a child in that vehicle, and authorities said at least 15 children on the bus suffered injuries including broken bones, cuts and bruises.
The female bus driver also was evaluated at a hospital, but was not immediately counted among the injured.
The bus was carrying 48 students to Bailey Middle School when the vehicles collided, Clark County schools police Capt. Ken Young said. It was not immediately clear what led to the crash.
Cristina Marquez said her son, Angelo, called her after the crash, telling her that children tumbled out of their seats as the bus tipped on its side.
Seventh-grader Kristiana Norris, 13, who was sitting with friends at the back of the bus, told the Las Vegas Review-Journal the crash was fast and frightening.
"We heard like a honking and then we turned and we flipped over and everyone was screaming," she said.
Norris said she was unhurt but saw other students injured and bleeding.
Marquez arrived quickly at the scene where she said some children were distraught but most were calm, helping each other and the bus driver out of the bus. She said her son had cuts and scratches.
"He was upset. He keeps talking about one girl who had her hand through a window, slit her wrist," Marquez told The Associated Press. "One of his friends had a neck injury."
The teen said he also saw someone with a cut near their eye.
The front half of the white sedan was completely demolished, and the bus lay on its side in a dirt lot where rescuers set up color-coded triage shelters to evaluate the injured. Uninjured children were reunited with parents in a nearby hardware store parking lot and at their school.
Fourteen children, ages 11 to 16, were taken to University Medical Center, hospital spokeswoman Danita Cohen said. Thirteen were students and one was the minor who had been in the car, police and hospital officials said.
Two other students from the bus, a boy and a girl, were treated and released from another hospital.
Eighth-grader Taiwan Turner, 15, told the Review-Journal he believed the bus entered the intersection on a green light before the collision.
"Embrace your loved ones because tomorrow's not promised to anybody." Mom whose son was injured in Las Vegas school bus crash. pic.twitter.com/xMm3GN6gnv

— KTNV Action News (@KTNV) May 4, 2017
His brother, Thailand Turner, 12, said the female bus driver appeared to try and avoid the crash by veering the bus toward the vacant lot.
An aerial view from a KSNV-TV news helicopter showed the full-sized yellow bus on its side with its stop lights flashing and two roof escape hatches open.
Officials set up triage treatment areas under color-coded sun shades in a vacant lot.
Cristina Marquez said turnover among drivers was high on the route to school, and the woman driving the bus Thursday had been on the route for a few months.