The impact of a government shutdown on public safety
Here's a breakdown of who is considered "essential" and "nonessential" during a federal government shutdown
---
This article, originally published Dec. 21, 2018, has been updated with current information.
By News Staff
As the Trump administration and Congress continue to spar over $5 billion in funding for a new border wall, the resulting government shutdown has reached day 33. On Jan. 12, it officially became the longest shutdown in American history, with no indication of an end in sight.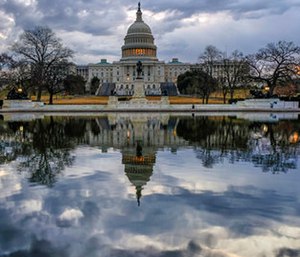 Here's how a government shutdown affects public safety personnel and first responders.
FIRST RESPONDER AND PUBLIC SAFETY PERSONNEL AFFECTED
In 2013, a government shutdown occurred from Oct. 1-16 during the Obama administration over the inability to agree on Obamacare.
During that time, the shutdown closed the National Emergency Training Center, forcing the National Fallen Firefighters Foundation to move events scheduled for its annual Memorial Weekend.
Mark Bray, a firefighter-paramedic at Montrose (Colo.) Fire Department, posted a question on Facebook during the 2013 shutdown about the National Fire Academy.
"Anybody know if the National Fire Academy was affected by the government shutdown?" Bray asked his Facebook followers.
Facebook follower Stephen Hrustich responded, saying the "gate is locked. You will not be picked up. Off campus classes are still being offered although with no support from the NFA."
In dismay, Bray replied, "They close up shop at the NFA and don't call or email students and tell them not to come or buy air fare. They force park rangers to clear the pond at Lake Powell and don't pay them."
Similarly, the FBI National Academy cancelled classes for the first time in its history during the 2013 shutdown. During the shutdown, Capt. Matt Canfield was into his first week of specialized training in Quantico, Virginia. According to the Laconia Daily Sun, Capt. Canfield was told that "his instructors were not considered 'essential personnel' and the training would be stopped."
During the shutdown, all federal employees who are believed to be "nonessential" are furloughed without pay.
ESSENTIAL, NONESSENTIAL FEDERAL EMPLOYEES
Essential personnel, according to NBC News, include:
Active duty military and civilian personnel
FBI agents
Doctors and nurses working in federal hospitals
Air traffic controllers
TSA officers
U.S. Customs and Border Protection agents
Coast Guard personnel
Meat and poultry inspectors
Centers for Disease Control and Prevention members
IRS personnel
National park rangers
DEA personnel
Bureau of Alcohol, Tobacco and Firearms field offices
According to the U.S. Department of Veterans Affairs, all VA operations will continue unimpeded.
Most federal agencies, however, do close during a shutdown, including the Securities and Exchange Commission and the IRS. Nearly 90 percent of Department of Homeland Security personnel, who are considered "essential," continue working, according to the DHS. Most Department of Justice employees also continue working during a shutdown.    
The National Park Service closed many national parks and the national monuments in Washington, D.C., but kept others open with limited staffing. Joshua Tree National Park, which remained open during some of the shutdown, was recently closed because of litter and destruction. U.S. Forest Service employees were also deemed "nonessential."
The shutdown is also having an impact on firefighter training season, as federal firefighters are prevented from prepping for the upcoming wildfire season, including removing "dry 'fuel' that feeds catastrophic blazes."
Firefighter officials in states where wildfires are prevalent are concerned about not receiving federal funding for training, equipment and other necessities. 
"For instance, OSFA is currently administering a $2.1 million SAFER grant for the recruitment and retention of volunteer firefighters [in the state], and we're deep in the training of volunteers right now, but, right now, we're not getting our funding like we should," Sheri Nickel, a member of the Oklahoma State Firefighters Association, said in an interview with KFOR. "We, as an organization, have to upfront the money to pay for the training."
Congress, on the other hand, continues to operate during a shutdown and members of Congress also continue to be paid. Federal prisons also still operate during a shutdown, and many COs are feeling the squeeze.
And even though some workers are deemed "essential," it doesn't mean that they all still get paid during a shutdown; they can have their pay withheld and still have to continue working.
THE EFFECTS OF A GOVERNMENT SHUTDOWN
The longer a shutdown occurs, the more serious it becomes. For example, the TSA, facing excessive absences as the shutdown nears its fifth week, issued a warning about the mounting security issues caused by the prolonged shutdown.
A government shutdown affects many different departments, agencies, personnel and everyday American citizens.
It causes havoc for departments and agencies that some may argue should always be considered "essential." It also creates low morale for those who are still required to work, despite being unpaid, due to the lack of backing and support of a full staff. On Jan. 25, hundreds of thousands of federal workers will miss their second check in a row as a result of the government shutdown. 
Over the coming days, Congress and the Trump administration will continue negotiating in order to reach a deal. 
Until then, it's all a waiting game.