Conn. city council raises EMS hourly pay by nearly $5
The wage increases for the town's approximately 22 unionized emergency medical workers were part of a new union contract that won council approval
---
Alex Wood
Journal Inquirer, Manchester, Conn.
ENFIELD, Conn. — The Town Council on Monday approved big pay increases for the town's emergency medical personnel in an effort to reduce staff turnover by bringing the town's pay rates more in line with a job market in which there is a "national shortage" of such workers, according to town officials.
The "market adjustment" in the wage rate of a first-year emergency medical technician who has completed probation is an increase of $4.85 per hour, said Steven Bielenda, the town's human resources director. That's a 27.5% increase from the previous wage of $17.65 per hour.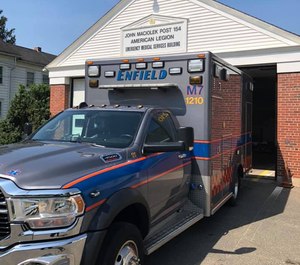 The comparable increase for a first-year paramedic who has completed on-the-job training and probation is $5.55 per hour, or 22.7%, according to figures supplied by Bielenda.
To avoid having the pay of union employees come too close to the pay of their non-union supervisors, the council also approved increases in the supervisors' pay, ranging from 16.5% for a captain to 27.5% for the supervisor who had been making the lowest wage.
Erin Riggott, the director, or chief, of the town's Emergency Medical Services Department will now make $63.53 per hour, up 20.9%. That comes to $113,805 annually.
The wage increases for the town's approximately 22 unionized emergency medical workers were part of a new union contract that won council approval, 10-0, on Monday, with one member absent.
The pay increases for non-union personnel and the budget transfers necessary to pay the increased wages won council approval by identical unanimous votes.
The three-year union contract calls for 3% wage increases in each of its last two years.
Bielenda has estimated that the contracted wage increases will result in a net increase to the budget of about $357,000 over the three years of the contract.
He said Enfield has been losing emergency medical employees to other towns — and to unrelated jobs in retail stores. But even before the council adopted the new union contract, word of it was affecting the job market, he said.
"The buzz is out there," he told the council. "We're getting applications we've never seen before."
Union members unanimously ratified the contract July 9, Bielenda reported in his memo.
Town Manager Christopher Bromson told the council that the wage increases won't put Enfield at "the top of the pay scale" among towns.
"We're in the middle," he said.
He and Bielenda said more than 60% of the town's emergency medical workers contracted COVID-19, then returned to work as soon as they recovered.
___
(c)2021 Journal Inquirer, Manchester, Conn.
McClatchy-Tribune News Service