Wis. village board declines to go forward on proposed ambulance fee increase
The Sturtevant board decided not to take up the South Shore Fire Department's proposal that would have increased ambulance fees by up to $150 and increased mileage charges fivefold
---
Eric Johnson
The Journal Times, Racine, Wisc.
STURTEVANT, Wis. — On Oct. 6, a South Shore Fire Department ambulance fee increase request faced long odds before the Sturtevant Village Board and was referred back to the village's Public Safety and Health and Property and Grounds Committee for further review. Now, due to Sturtevant's village board not taking up the proposal again, the proposed ambulance fee increases for 2021 are dead.
It would have been the second ambulance fee increase in as many years, but 2019's increase was the first increase in South Shore's ambulance service fees since 2009.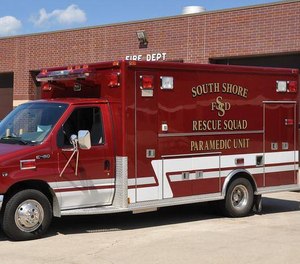 "I'm having huge, huge indigestion with this right now," Sturtevant Village President Jayme Hoffman said at the time of the fee increase proposal. "We're in the middle of a pandemic, people are losing jobs ... I personally think this is the wrong time to be throwing this out there."
Request revisited, killed
Slated for discussion and possible action on the Sturtevant Village Board's Tuesday agenda, South Shore's request flatlined. With no discussion, South Shore's ambulance service fee increase request died on the floor for lack of a second to a motion to increase the fees.
"Nobody wanted to second it so it just died at the board level," Hoffman told The Journal Times after Tuesday night's meeting. "We're in the middle of a pandemic. It's not the time...
"We in the Village of Sturtevant ... have worked the best that we can to help our residents get through this pandemic financially. For my opinion, to raise ambulance fees right in the middle of a pandemic is not proper."
Mount Pleasant trustees approved request
On Nov. 9, the Mount Pleasant Village Board had unanimously approved South Shore's request, which called for ambulance fees for both Advanced Life Support and Basic Life Support service to increase $150 for non-residents and $100 for residents, while mileage charges for both would increase $5 to $25/mile. Proposed South Shore non-transport ambulance treatment fees would rise $100 for non-residents and $50 for residents.
The proposed ambulance service fee increases, slated for a planned Jan. 1, 2021 enactment, require the approval of both the Sturtevant Village Board and the Mount Pleasant Town Board to be implemented.
Without Sturtevant's support, the proposed increases cannot go forward.
"We're a consolidated department," Stedman told The Journal Times in a follow-up interview. "We can't have different ambulance fees."
Operations of South Shore are funded 82% by Mount Pleasant, with the remaining 18% coming from Sturtevant. The South Shore Fire Department's 66 uniformed personnel serve a 38-square-mile area inclusive of more than 33,500 residents in the villages of Sturtevant and Mount Pleasant.
With South Shore ambulance service fees staying flat for the foreseeable future, South Shore Fire Chief Stedman said more of the rising cost of providing emergency medical services will fall jointly on taxpayers in both Mount Pleasant and Sturtevant.
"The amount of revenue we take in reduces the cost to the taxpayers," he said. "That's what it boils down to. So if we take in less revenue, there's money that goes on the taxpayers. It's a pretty simple equation. Sometimes things work out and sometimes they don't. It is what it is. That's the way I look at it. We'll have to figure it out. The villages will have to figure it out."
___
(c)2020 The Journal Times, Racine, Wisc.
McClatchy-Tribune News Service