Calif. FD inundated with complaints after sending out EMS 'bills'
Vallejo officials are working to better clarify that the "bills" received by patients are actually information copies showing fees to be paid by insurance carriers
---
Update Sept. 16, 2020: The Vallejo Firefighters Association IAFF Local 1186 has released a statement demanding improved communication about the new First Responder Fee following numerous complaints from citizens. Read the full statement below:
Recently, the Vallejo Fire Department has begun sending out 'First Responder Fee' notices. These notices have become the industry standard to help recuperate the costs associated with emergency medical care. In fact, Vallejo is the last city within Solano County that provides Fire Department based advanced life support care to institute this new fee.

Unfortunately, Vallejo Fire Department administration has failed our citizens on this matter. The first responder fee was voted on and passed by Vallejo City Council approximately two years ago. Since that time, the Vallejo Firefighters Association has made numerous requests directly to Fire Chief Daryl Arbuthnott to openly share the roll-out plan for this new fee. Our interest from day one has been to ensure that our residents were not inappropriately billed or financially burdened. These requests fell on deaf ears.

When we look to our neighbor cities of Benicia & Fairfield, we can see how well they handled their roll-out of this new program. Both cities have launched a webpage to answer questions associated with these notices (see Benicia's here: https://www.ci.benicia.ca.us/index.asp?SEC=9136E522-F650-4B59-9766-1BF840AB82E9&DE=676D5418-E145-4BA7-803B-23CAB0AF7272). Both cities put out press releases informing their residents of the new fee. Both cities made efforts to ensure that their citizens were not confused or burdened by the new fee.

The disorganization centered within the Fire Chief's office surrounding the roll-out of this new fee is further exemplified by the fact that our own working firefighter/paramedics were not informed that this program had gone live until after the first round of fee notices were in the mail. We see this as a blatant attempt to conceal crucial information from our rank and file by our sitting Fire Chief.

To our citizens- if you receive this new First Responder Fee notice, please know that it is intended to be paid by your insurance provider, not by you or your family. You are not expected to come out of pocket in any way.

We understand and share your frustration. Your Vallejo Firefighters are always here to answer your 9-1-1 call and to continue to provide superior emergency care and services.

In Solidarity,

Your Vallejo Firefighters Association

(To date, Fire Administration has not/will not share what this new fee notice looks like or the exact language included in the notice. If you received a First Responder Fee notice, we invite you to send a copy through Facebook messenger to our Vallejo Firefighters Association. Please redact any personal information before sharing.)
Original report: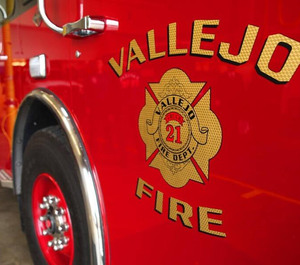 Richard Freedman
Times-Herald, Vallejo, Calif.
VALLEJO, Calif. — It was difficult enough for Linda Grow caring for her 78-year-old father.
But when the Vallejo woman received four service call bills from the Vallejo Fire Dept. for $1,880, she went all-caps on NextDoor.com.
"I want to warn you all it is not a free call and they do not tell you — you just … get this great big bill in the mail at a real bad time … it was free before our city council voted it in," wrote an obviously upset Grow, lamenting the cost of calling "911" after her father fell with four cracked ribs and a collapsed lung.
"I thought the firemen came out to help if you fell" with bills $470 due Sept. 17, said Grow.
Well, they are bills. But they're not, said Vallejo Fire Chief Daryl Arbuthnott.
"These bills are sent to residents for informational purposes only," responded Fire Chief Daryl Arbuthnott in an email. "Bills for payment are sent to their health insurance carrier and the city accepts whatever payment is from the insurance company."
Abruthnott acknowledged that the fire department and city council are "being inundated with angry citizens' response to the newly-activated 'First Responder Fee' implemented this month."
The fees, approved by council, are "designed for professional fire/EMS providers to collect cost associated with services provided," continued Abruthnott. "Our residents are not being required to pay these fees … the patient's insurance carriers are the ones expected to pay the fees. However, patients also receive a copy of the bill for informational purposes. The department anticipated complaints as this is a new process requiring a great deal of coordination."
"First Responder Fees" is "cost recovery for first responder paramedic services and, according to the fire chief, "has become an industry standard to fund the enhanced paramedic level of service provided by engine and truck companies. All other fire services in Solano County and in the Sacramento area charge this fee. The Vallejo FD is the last one in the county to implement this fee-billing process."
The use of property taxes are designed to fund fire suppression and basic medical care only, continued Arbuthnott. "However, communities have come to expect and receive paramedic advanced level of care and it is considered an essential public service."
Whatever amount is received from the insurance carrier are currently accepted by the city as full payment and "the city is not positioned to send non-payment of fees to collections," the fire chief said.
Acknowledging the possible confusion, Vallejo Councilmember Rozzana Verder-Aliga said Monday she would suggest that "THIS IS NOT A BILL" be emphatically included on all the "First Responder Fees" correspondences to citizen.
Mayor Bob Sampayan agreed, adding that perhaps the "warning" should be in bold face and in red.
"We should have communicated it better," Sampayan said. "We made it every clear last year when we began talking about this that we wanted it publicized in every media possible so we would not scare our residents. Obviously, it wasn't enough."
Sampayan added the the "First Responder Fee" is a state law "and, frankly, we were one of the few communities in the Bay Area that was not doing cost-recovery."
———
©2020 Times-Herald (Vallejo, Calif.)
McClatchy-Tribune News Service