Community paramedicine could ease the opioid epidemic
Using community paramedicine resources to monitor opioid-addicted patients detoxing at home could relieve the burden on EMS and ERs
---
By Allison G.S. Knox, faculty member at American Military University
Like other public organizations, emergency medical services are going through a number of major changes to keep up with the needs and demands of local municipalities. New models are emerging to meet the changing times.
One of these models is community paramedicine, which, in essence, allows EMS personnel to visit the homes of individuals who require medical assistance. These individuals are not medical emergencies that require transportation to a hospital emergency room.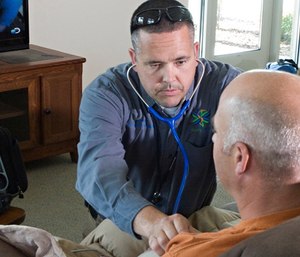 Community paramedicine relieves overburdened EMS units
For years, 911 calls from individuals who need medical attention but are not emergencies have overburdened EMS units. These calls created a number of patient care problems and strained hospital ER services. 
Community paramedicine is designed to address these issues. Numerous articles and studies cite the overall benefits of this model, showing how in the long run, non-emergency patients need fewer trips to the ER.
Opioid crisis a new strain on EMS and ER services
However, ER services are again under stress due to the current nationwide opioid crisis. Emergency medical services must respond to countless overdose calls that burden EMS workers and take away necessary resources from other emergencies.
A recent study shows that many overdose patients do not get the care that they need to break the cycle, even after one or more emergency trips to a medical facility. However, an interesting new measure has emerged that meets the need to help drug overdose patients.
According to Dan Swayze, community paramedicine can be used to monitor opioid-addicted patients detoxing at home. Swayze says a couple of cities are starting to use this model, which could be a boon to the community and potentially reduce the number of opioid-related drug overdoses.
Community paramedicine changes EMS reaction to opioid overdoses
Emergency medical services will continue to change as the needs of local municipalities change. Community paramedicine is definitely changing the way EMS agencies are reacting to opioid overdoses. If community paramedicine is widely used to monitor addicts at home, it may prove to be a tremendous asset in breaking the opioid epidemic cycle.
About the author
Allison G. S. Knox is a faculty member at American Military University, teaching courses in Emergency and Disaster Management. Her research interests are comprised of emergency management and emergency medical services policy issues. Prior to teaching, Allison worked in a level one trauma center emergency department and for a Member of Congress in Washington, D.C. She holds four Master of Arts degrees in emergency management, international relations, national security studies and history. She is a certified lifeguard, MET and is also trained in technical large animal emergency rescue. Allison currently serves as advocacy coordinator of Virginia for NAEMT, chapter sponsor for the West Virginia Iota Chapter of Pi Gamma Mu International Honor Society, and faculty advisor for the Political Science Scholars. She is also on the Board of Trustees and serves as chancellor of the Southeast Region for Pi Gamma Mu International Honor Society in the Social Sciences. She can be reached at IPSauthor@apus.edu. For more articles featuring insight from industry experts, subscribe to In Public Safety's bi-monthly newsletter.