Changing the political climate to recognize first responders
First responders often feel underappreciated in the public sector
---
By Allison G.S. Knox, faculty member at American Military University
First responders are a vital component of all levels of emergency management. Without them, basic emergency management functions could not occur.
Considering the mass casualty bombings and active shooter incidents of the past few years, it is first responders who take command of these incidents and manage the scene immediately. First responders are essential to emergency management.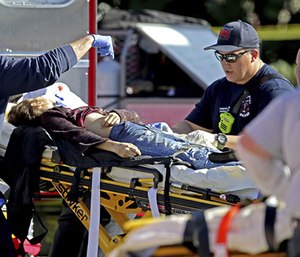 Despite their importance, first responders often believe that they're at the bottom of the totem pole when it comes to the public's understanding and appreciation of them. Members of the public often do not understand what first responders do or how they handle public safety needs. For example, a recent Pew survey found that "most federal mitigation investments are made after a disaster occurs, and very little data on state funding for such programs are publicly available."
This lack of understanding or knowledge makes it difficult to advance new public policies. Some political scientists argue that to change or create public policy, there needs to be a general awareness throughout a community or society of a given issue. For change to occur in the public safety realm, there needs to be greater awareness of and support for first responders.
Raising public awareness of first responders
A new stamp, however, may be helpful in raising public awareness of first responders. This month, the U.S. Postal Service issued a new postage stamp to honor first responders. As a result, millions of people will be reminded of the important role of first responders when they send or receive mail using the new stamp.
However, a stamp honoring first responders alone will not shift society's perspective. There needs to be other public relations efforts, so that the general public will better understand what first responders do and their importance in emergency situations.
Perhaps the stamp will serve as a catalyst for a political push to address first responder issues and create new policies that further the cause of these dedicated public servants.
About the author
Allison G. S. Knox is a faculty member at American Military University, teaching courses in Emergency and Disaster Management. Her research interests are comprised of emergency management and emergency medical services policy issues. Prior to teaching, Allison worked in a level one trauma center emergency department and for a Member of Congress in Washington, D.C. She holds four Master of Arts degrees in emergency management, international relations, national security studies and history. She is a certified lifeguard, MET and is also trained in technical large animal emergency rescue. Allison currently serves as advocacy coordinator of Virginia for NAEMT, chapter sponsor for the West Virginia Iota Chapter of Pi Gamma Mu International Honor Society, and faculty advisor for the Political Science Scholars. She is also on the Board of Trustees and serves as chancellor of the Southeast Region for Pi Gamma Mu International Honor Society in the Social Sciences. She can be reached at IPSauthor@apus.edu. For more articles featuring insight from industry experts, subscribe to In Public Safety's bi-monthly newsletter.