Ore. SUV slams into parked ambulance
Driver of the SUV died at the scene
---
PORTLAND, Ore. — Portland police are investigating a deadly crash after an SUV slammed into an ambulance.
Investigators said an AMR ambulance was on an unrelated medical call near the 102nd Avenue MAX platform around 2:15 a.m. Thursday, parked in the westbound lane of East Burnside Street with its lights flashing.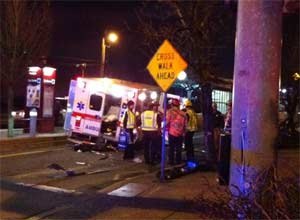 Two paramedics had just loaded 51-year-old Wesley Poston on a stretcher in the ambulance, and one of the paramedics, Sean Shanahan, was standing outside closing the rear doors.
Investigators said an off-duty police sergeant witnessed a Kia SUV speeding westbound on Burnside, going around 70-80 mph, when it slammed into the ambulance. The force of the crash moved the ambulance 20 feet up onto the MAX platform.
Poston was thrown from the ambulance, while paramedic Melyssa Marchesi remained inside, police said.
Rescuers then rushed Poston and Marchesi to the hospital, and police said they were not seriously hurt.
Investigators said the Kia brushed by the other paramedic, Sean Shanahan, who was not hurt.
Police said the 34-year-old woman driving the SUV was killed on impact. Her name will not be released until the Oregon State Medical Examiner can perform an autopsy and notify family members.
The autopsy will likely determine whether the driver had any drugs or alcohol in her system at the time of the crash.
Investigators with the Portland Police Bureau's Major Crash Team shut down the intersection for several hours, but reopened it in time for the morning commute.
A police sergeant told Fox 12 he was amazed this crash did not involve multiple fatalities.
Anyone who might have witnessed this crash or the Kia driving prior to the crash is urged to call Officer Chris Johnson at 503-823-2213.
Republished with permission from KPTV.com