Officials: Houston ambulance fleet in 'deplorable' condition
Houston Professional Firefighters Association president Patrick Lancton said two ambulances have recently broken down with patients inside
---
By EMS1 Staff
HOUSTON — The state of Houston Fire Department ambulances is "deplorable," according to officials.
Click2Houston reported that two ambulances have recently broken down with patients inside, according to Houston Professional Firefighters Association president Patrick Lancton.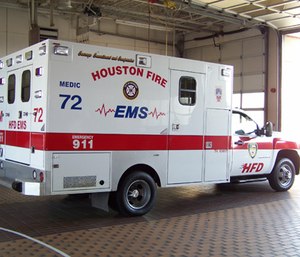 "Then on Friday we ran out of what are called advanced life support units and those medic units are in case a citizen has a serious medical condition that requires advanced life support," Lancton said.
Lancton said no one was harmed in the breakdowns, but they did highlight the condition of the ambulance fleet, which Lancton described as an emergency in itself.
Administrators said the ambulance fleet is not the problem, but it's the heavy call volume that takes a toll on the equipment and crew.
"Your call volume can easily outrun your actual fleet, so the fleet's up to par, the call volume is pretty much high. To answer your question we were over a 1,000 runs that day," Assistant Chief Herbert Griffin said.
A study commissioned by the department in 2016 found that Houston is 70 ambulances short of being equipped to maintain the national response time standard of eight minutes for 90 percent of calls.