Mich. FD's 3 new ambulances made with patient comfort in mind
Roseville's rigs have features such as backup cameras and push-button self-loading stretchers, plus a smoother ride than the models they replaced
---
By Mitch Hotts
The Macomb Daily
MOUNT CLEMENS, Mich. — Comfort may be the last thing on a patient's mind when being rushed by ambulance to a hospital, but it's top of mind at the Roseville Fire Department.
Officials on Tuesday unveiled three brand new, state-of-the-art advanced life support ambulances Mayor Robert Taylor said will "hopefully help some save lives."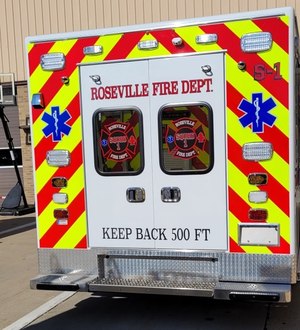 All of the new vehicles feature updated safety equipment including backup cameras that can provide the driver with a 360 degree view of objects near the rig, "one-finger" push-button self-loading stretchers, and new cots.
"The City Council approved buying these new ambulances to get the city of Roseville where it should be in terms of fire department-based EMS," said Fire Chief Keith Jacobs.
Also, the trio of new ambulances will be equipped with 2023 Life Pak 15 monitors/defibrillators that include display screens for viewability in bright sunlight, and data connectivity to easily collect and send patient information.
The purchases come at a time when ambulance runs in Roseville are on the increase. Officials say in 2022, the total run volume was 9,478 — a 15% increase over 2019 when ambulances made 8,189 runs.
Jacobs said the vehicles provide a much smoother ride than past ambulances, which left patients feeling like they were being transported in a pickup truck, especially during pothole season.
"The biggest complaint we get from people when we have to take them to the hospital is the ride was so uncomfortable," the fire chief said. "There was so much shaking and so much noise. These have much better suspension to make the transport easier on the patient."
The rigs also boast enhanced air conditioning and heating systems to add to the comfort levels.
Squad One is a 2021 Ford E450 Road Rescue, which replaces the department's 2006 Braun that had over 200,000 miles on it. It was initially purchased from the neighboring Eastpointe Fire Department in 2014, which had its engine rebuilt.
Squad Two is a remounted 2016 body onto a a 2021 Ford E450 Road Rescue, which was completely repaired, refurbished and repainted. It replaces a 2016 rig, which had chassis issues.
Squad Three is a 2022 Ford E450 Road Rescue that replaces a 2009 MedTech, which had more than 230,000 miles on it.
Two of the ambulances will be assigned to Fire Headquarters on Common Road behind City Hall, while the third will go to Fire Station 2 on Frazho Road, east of Gratiot Avenue.
The combined $710,600 cost was paid for by federal American Rescue Plan Act (ARPA) funds and grants, so they come at no cost to taxpayers, according to the mayor.
"It's great for Roseville and cities that we help serve," Taylor said. "And the new ambulances will hopefully save some lives."
The three old ambulances will be sold or discarded, officials said. Roseville also has two backup ambulances on hand.
___
(c)2023 The Macomb Daily, Mount Clemens, Mich.
Visit The Macomb Daily, Mount Clemens, Mich. at https://www.macombdaily.com/
Distributed by Tribune Content Agency, LLC.
McClatchy-Tribune News Service