DocGo transports its first patient in all-electric ambulance
The trip from Jefferson Health-Abington hospital to a nursing home was less than 10 miles
---
By Leila Merrill
ABINGTON, Pa. — The first patient was transported last week in DocGo's all-electric ambulance from Jefferson Health-Abington Hospital to a nursing home.
The short trip — less than 10 miles — went smoothly, DocGo President Anthony Capone told Fierce Healthcare.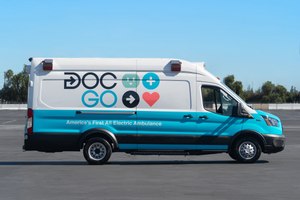 The medical transport company has a partnership with Jefferson Health. DocGo covered the vehicle's cost, and Jefferson Abington sponsored an on-site charging station. 
DocGo delivered its first vehicle in March.