Autobahn and EMS: Driving a culture change
We started out driving fast because it's about all we could do for patient, but now we have so much more in our arsenal
---
I recently returned from Fulda, Germany, and the RETTMobil show held there each year. Truly, everyone serious about EMS should go at least once to get another perspective on the work — for example, differences in vehicles and loading patients.
One difference that really struck me, though, was driving on German motorways: The famous Autobahn, where the numbers posted on speed signs are "'recommendations.'" It's true, people go pretty fast, as high as 200kph (124mph) or more. When these cars pass you, it's as though you are standing still. Often one car comes right after another, sometimes after another, very tight together. I would call it "precision driving."
It's also true that cars don't stay in the right-hand lane; they move to the center, with often only inches of clearance between them and, say, you, as they change lanes.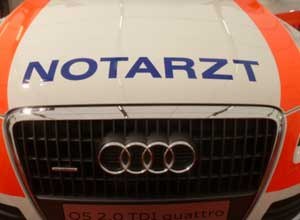 To someone who has never had a vehicle that would even go over 100mph, someone who taught for years that speed kills, someone who learned that collisions at such high speeds are simply unforgiving and incompatible with life, this practice seemed beyond dangerous. I was sure I was right.
What would it take to change this highly at-risk behavior? I realized that this is in the very foundation and culture of many German drivers. To change this behavior, then, would mean changing a culture. Much has been written lately about cultural change as the roadmap to improved safety, and I agree: Without a culture of safety in EMS, our outcomes, employee turnover and image are not likely to change.
When it comes to changing EMS culture, whatever that form is — stopping at red lights, lift assist, wearing face protection, how people are disciplined or corrected — the same "needs" are present.
Most important, the culture needs to want to change. EMT's and medics must perceive a need and have a desire for change, or cultural change is less likely. It's not like flipping a light switch. It takes time and commitment as well as a plan.
I read recently about a retired firefighter who died in a collision with an ambulance. I later read that the driver of the ambulance is facing criminal charges. I was saddened.
To me, these headlines, these events, are the catalysts that should drive change and cause champions to stand up and to demand change. Each EMT and medic should ask, "Might I be next?" and answer, "I refuse to be next."
When speed-related accidents occur, people within organizations should take at least a minute to discuss the event, to reinforce the positive and to move away from the wrong, harmful ways of old.
As an industry, we started out driving fast because it's about all we could do for a patient. Decades later, we have so much in our arsenal that speed should perhaps be left only on the Autobahn, not used as a treatment plan by EMS providers. No one should die simply because "we've always done it that way."