Ambulance designed to raise awareness for childhood cancer
The ambulance features handprints of children who have or are battling cancer
---
By EMS1 Staff
WHITLEY COUNTY, Ky. — Officials unveiled a new ambulance designed to raise awareness for childhood cancer Wednesday morning.
WKYT reported that Whitley County EMS' new ambulance features handprints of children who have or are battling cancer.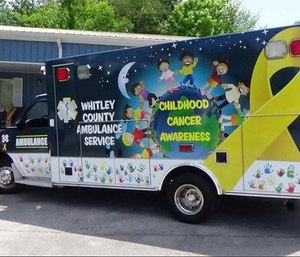 Reed Elliot, 7, who has battled lymphoma twice but is now cancer-free, has his handprint on the new ambulance.
"To honor them back is something that gives us a lot of pride," Kelly Harrison, director of Whitley County EMS, said. "And the little man there has fought a battle and we stand behind him just like we do all children in Whitley County."
Harrison said the boy's reaction to seeing the ambulance was priceless.