NC ambulance overturns while responding to call
Officials said paramedic Lindsey Campbell lost control of the ambulance as she approached a stop sign and drove into a ditch, causing the rig to overturn
---
By Danielle Battaglia
News & Record 
JULIAN, N.C. — A Guilford County paramedic lost control of an ambulance Wednesday morning resulting in the vehicle overturning in a ditch. 
N.C. Highway Patrol spokesman Brandon Baker said Lindsay Dale Campbell, 24, of Thomasville, was the driver of the 2014 Ford Ambulance and was responding to a call at 10:12 a.m. when the wreck occurred. She has not been charged.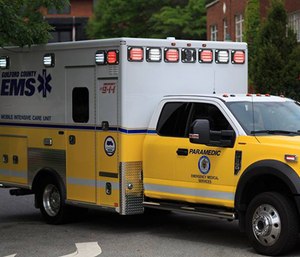 Baker said in an email that the wreck happened on Mount Hope Chrurch Road as Campbell approached the intersection of Holts Store Road. Baker said as Campbell approached a stop sign she traveled off the right side of the road over-corrected and went left of center, driving back off the roadway and striking a ditch causing the ambulance to overturn. 
Campbell had her lights and sirens activated at the time of the wreck. 
Baker said no other vehicle was involved and Campbell was the only person in the ambulance. Campbell was uninjured.