Survey: 90% of American adults consider air ambulances a critical service
YouGov conducted a poll revealing that a majority of people believe air ambulance services are critical and should be covered by insurance companies
---
By EMS1 Staff 
GREENWOOD VILLAGE, Colo. — Global Medical Response released a survey that showed nearly 90% of American adults consider air ambulance service to be a critical part of healthcare and that current proposed legislation will only benefit insurance companies.
The four-day YouGov surveyed 1,240 adults, of which 95% agree that air ambulance services can save lives, and of which 82% expect an air ambulance service to be available for transport in case of an emergency.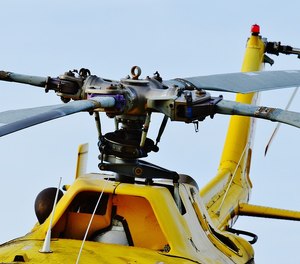 The survey also showed that 87% of people, 93% of them living in rural areas, believe health insurance companies should not deny coverage or push back on a physicians' or first responders' decision to choose an air medical transport during an incident. In addition, nearly 60% of people expect the medical bill's balance to be paid off by the insurance company.
The poll also exposed a disconnect between an American's experience in understanding what the actual cost of the transport is and what the resulting balance reflects on an insurance bill. Most people that responded to the survey estimated 69% of patients receive a statement with the balance owed if they are transported via an air ambulance.
Currently, Congress is considering legislation to address air ambulance bills by enacting a "median in-network" reimbursement rate for air medical services. However, the proposed legislation has been criticized as favoring insurance companies and neglecting to provide a sustainable financial situation for air medical providers.
Officials with the FAA Reauthorization Act of 2018 are also working to find a solution through a joint U.S. Departments of Transportation and Health & Human Services Advisory Committee on Air Ambulance Patient Billing to find solutions to end surprise billing.