Puerto Rico debt crisis forces air ambulance company to close
Aeromed can not continue without a commitment from the Puerto Rico government to pay the existing debt and offer fees to guarantee long-term service
---
By Jonathan Austin
The Virgin Islands Daily News
SAN JUAN, Puerto Rico — Aeromed, Puerto Rico's air ambulance company, announced Tuesday that it could no longer continue operations because of an unresolved $4.4 million debt from the Puerto Rican government.
"This decision is a heavy burden on us because for the past 22 years our mission has been to save lives; but this is also a complex commercial operation and requires income to continue operating," said José Hernández II, Aeromed's program director, in the written announcement.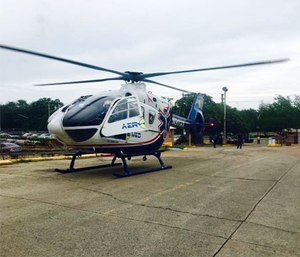 "Our corporation has subsidized the air ambulance transport system for Puerto Rico since 2013. At this time, without an acceptable fee and a formal payment plan for the existing debt, it is impossible for us to continue to provide this vital service," Hernández said.
Aeromed should not be confused with AeroMD, the aircraft medical transport company which operates out of Nisky Center in St. Thomas.
Hernández said suspension of the air ambulance service could increase the mortality rate for patients with traumatic injuries who need speedy care and transport to the Trauma Hospital of the Puerto Rico Medical Center or other medical facilities capable of providing medical care.
He said the lack of air ambulance service will also jeopardize the Medical Center's Trauma Hospital accreditation.
Grace Bailey, a medical social worker at Schneider Hospital in St. Thomas, said the loss of Aeromed won't impact medical care here. "We rarely actually use Aeromed. Our main source of transportation is AeroMD or Island Air, Reva, or others," she said. "It's really not going to affect us."
No one with Luis Hospital on St. Croix could comment about the impact of Aeromed ceasing operations. No one answered the phone at the hospital Friday at 3:30 p.m., and later in the day no one responded to requests for comment.
Hernández said the company no longer could continue operations without a commitment from the government of Puerto Rico to pay the existing debt and offer acceptable fees that could guarantee long-term service.
———
©2016 The Virgin Islands Daily News (St. Thomas, VIR)