Aerospace company announces 1st preorders of compact air ambulance
Hatzolah Air has preordered four "CityHawks," lightweight EMS aircraft designed by Urban Aeronautics to more easily land and take off in urban settings
---
By Laura French
WEST HARRISON, N.Y. — Urban Aeronautics, an Israeli aerospace company, has announced the first preorders of its compact air ambulance by an EMS agency in New York. 
Hatzolah Air has reached an agreement with Urban Aeronautics to receive four "CityHawk" vertical take-off and landing (VTOL) aircraft, lightweight aircraft designed to more easily navigate in urban settings, according to a press release. The air ambulance service will also become Urban Aeronautics' official sales representative and distribution channel to other EMS and rescue organizations worldwide.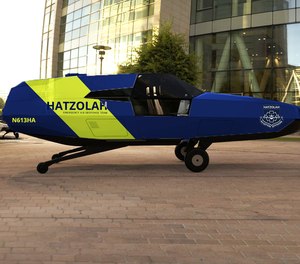 "Hatzolah's pre-order of four air ambulance CityHawks is an amazing show of confidence in our program and in our company," said Urban Aeronautics CEO Nimrod Golan-Yanay, in a statement. "We look forward to delivering on our promise to revolutionize urban air mobility and the emergency response capabilities of major cities across the world." 
The CityHawk features twin engines and a compact footprint designed for easier take-off and landing in city settings. The aircraft utilize jet propulsion technology, include cabins that are 20 to 30% larger than comparable helicopters and can accomodate a pilot, two EMS personnel, a patient and companion, and onboard life support equipment, according to Urban Aeronautics. The company says the CityHawk aircraft are also quieter than similar helicopters. 
Urban Aeronatautics plans to complete development, Federal Aviation Administration certification and production of the CityHawk within three to five years. The company's engineers are working with Hatzolah Air experts to tailor the CityHawk to their operational requirements. 
"We are excited to become not just the worldwide distributor of Urban Aeronautics Air Ambulance CityHawk, but its first customer as well," said Hatzolah Air President Eli Rowe, in a statement. "Hatzolah's mission is always about patient care and adding the VTOL CityHawk has the potential to save many thousands of lives every year."