Student named 'heartsaver hero' after helping save man's life
The American Heart Association honored Logan Hill for saving a post office custodian who went into cardiac arrest
---
By Ted Booker
South Bend Tribune
MISHAWAKA, Ind. — When Logan Hill learned how to do CPR two years ago at Penn High School, he never fathomed he'd be in a position to help save someone's life.
But the opportunity arose while he was in line on Oct. 23 at the Osceola post office. He put his training into action after Paul Anderson, a part-time custodian at the office, went into cardiac arrest.
Hill, a senior at Penn, joined a pair of post office clerks — Brenda Stahly and Pam Wesolowski — to help save the life of Anderson, whose heart stopped beating for nearly 20 minutes.
On Monday night, the American Heart Association honored Hill by presenting him with a "Heartsaver Hero Award" at Penn-Harris-Madison School Corp.'s board of trustees meeting.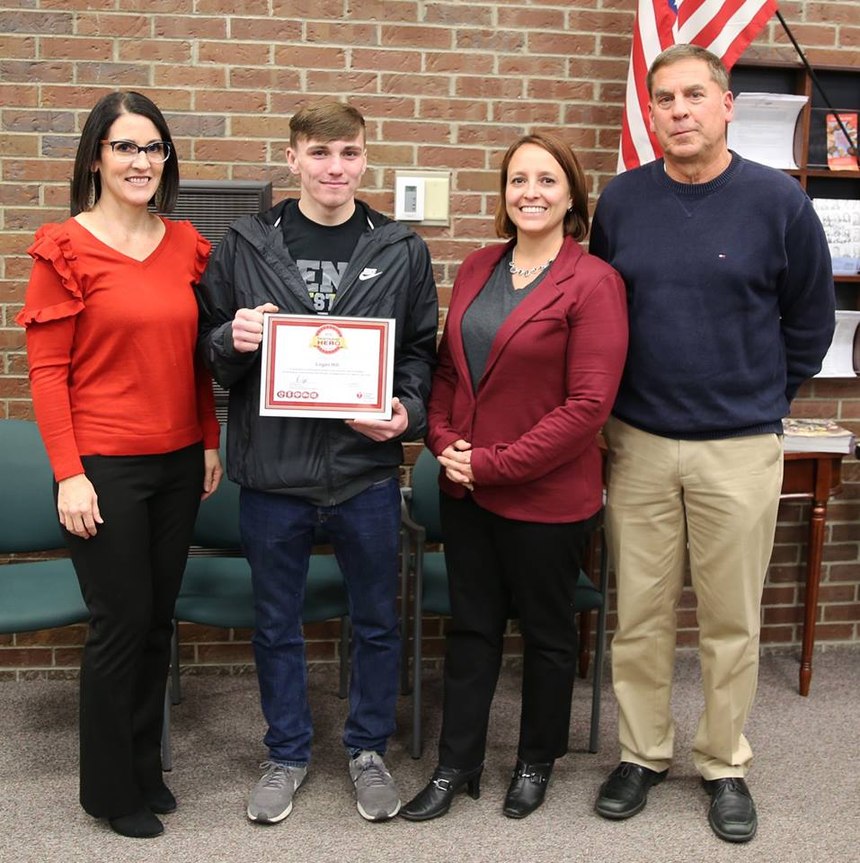 Hill, who plans to be a police officer, said he is grateful for the CPR training he received at Penn.
Hill said after noticing Anderson was on the ground behind the counter, the training from his sophomore year "snapped back into me." He recommends people who haven't learned how to do CPR to do so.
"Take a class because you never know when you're going to use it," said Hill, who is a wrestler and pole vaulter at Penn.
Anderson said he's thankful for Hill and others who helped save his life, including co-workers, paramedics and a 911 dispatcher.
"I'm so thankful all of the people were in the right place at the right time," said the 48-year-old, who is also the pastor at Immanuel United Methodist Church in South Bend and owns a freight brokerage business.
While Anderson was in cardiac arrest, Hill performed chest compressions and Stahly gave rescue breaths. Wesolowski called 911, and responders arrived in less than 10 minutes. Both of the clerks also will receive "Heartsaver Hero" awards.
If it weren't for Hill and the pair of clerks, Anderson said, "chances are I would be dead."
The heart association also used Monday's occasion to pay tribute to Rod Pawlik, a Penn health teacher who has taught students CPR for numerous years. Pawlik, who taught Hill CPR, said he was impressed by how he swiftly took action to help Anderson.
A state law that took effect in 2014 requires CPR training as a high school graduation requirement. The law was supported by the heart association, which honors "Heartsaver Heroes" each year.
Immediate CPR from bystanders can triple a cardiac arrest victim's chance of survival, according to the association.
Anderson, meanwhile, is grateful to have another lease on life.
"I'm a firm believer," he said, "God had his hand in this."
Copyright 2018 South Bend Tribune
McClatchy-Tribune News Service