Study: Public not using AEDs despite growing access
Research found that despite knowing what AEDs are, people don't feel comfortable using them
---
By EMS1 Staff
COVENTRY, England — A new study suggests that despite growing access to AEDs, the public is still reluctant to use them to treat cardiac arrests.
Cardiovascular Business  reported that many people don't know how to use an AED even though the point of the device is to be suitable for use by an untrained individual, according to research published in the "European Heart Journal."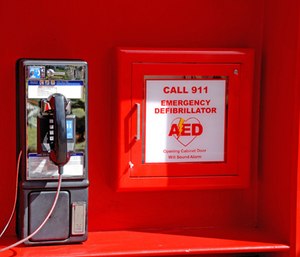 Lead author Christopher Smith and his team found that public access defibrillation is only used in 0.15 to 4.3 percent of out-of-hospital cardiac arrests.
"An understanding of the reasons why PAD is used so infrequently is vital to increasing its effectiveness and improving survival," Smith wrote in the study.
The researchers looked at 68 surveys, interviews and other observational studies and identified 11 "core themes"  that contribute to lack of use: knowledge and awareness, willingness to use, acquisition and maintenance, availability and accessibility, training issues, registration and regulation, medicolegal issues, dispatch-assisted AED use, AED locator systems, demographic factors and human factors.
When asked if they were willing to use the device, over 80 percent of people said they were wary, according to the study. Researchers said the members of the public were either worried about not knowing how to use the device or feared they would cause harm to the patient.
Smith also said many of the devices are not available around the clock.
"Many OHCAs occur outside of 'normal business hours,' and many public-location AEDs are not available at these times," Smith and colleagues wrote. "Targeted location of AEDs will be most effective if combined with efforts to improve actual availability."