Why drug addiction is a brain disease
A flight physician and former EMT share their personal stories of addiction, treatment and recovery at Wisconsin EMS conference
---
MILWAUKEE — A former EMT and a flight physician, both recovering addicts, put a face on the risks and reality of addiction by sharing their personal stories with EMS providers. The opioid overdose epidemic and addiction were the focus of a full-day pre-conference session at the Wisconsin EMS Association Working Together Conference.
Addiction has impacted nearly every person attending the session. Only 10 of the 140 attendees raised their hands that they had not been touched by addiction. Rick Barney, MD, became addicted to narcotics after back surgery. He discussed the pressures that led him to continuing to use Percocet, including self-prescribing medications. Barney received treatment and was able to keep his medical license. He has now been sober for four years and continues to help others receive treatment and bring attention to addiction, a disease of the brain.
Don Hunjadi, the former executive director of the Wisconsin EMS Association, shared his personal story of addiction. "I guarantee you I injected morphine," before an opening session of the Wisconsin EMS Association conference many years ago.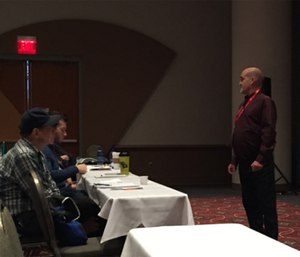 Hunjadi became addicted to narcotics after a tonsillectomy as an adult. He described his path from occasional use to addiction to diverting narcotics. Hunjadi continued to use narcotics until a car accident, while suffering from withdrawal symptoms, that led to the discovery of his addiction. He has been in recovery since October 2009.
Barney and Hunjadi briefly described their treatment and recovery. They also encouraged any attendee battling the disease of addiction to seek treatment, including personally speaking with either of them.  
Memorable quotes on becoming an addict
Barney and Hunjadi, two long-time and prominent figures in Wisconsin prehospital care, opened a window into their personal lives that was unknown to the many EMS professionals that knew them from statewide conferences, committees and events. Here are memorable quotes from their presentation.
"Becoming addicted was not a choice of mine."
"Once you have an addiction disease you have it for life."
"We are not getting anywhere. Addictions rates are climbing. Overdoses are increasing. What we are doing is not working."
- Rick Barney, MD
"I dabbled for 12 years which reinforced the notion I got this. It didn't do much for me as a high, but gave me energy."
"In withdrawals, I made a real fateful decision to borrow fentanyl from the fire department. That went on for almost 20 years."
"If this can happen to us, then it can happen to everyone."
- Don Hunjadi
Key takeaways on drug addiction, a brain disease
Barney delivered an additional presentation to attendees explaining why addiction is a brain disease. Here are the key takeaways from Barney's presentation.
1. Addiction is a disease of the brain
An addict's brain drives profound behaviors to seek out the substance or activity. The brain's reward center activates strongly for anything that is enjoyable, even though it might be dangerous or have negative consequences, and seeks to repeat that as soon as possible. Genetics, social experiences and past experiences can all play a role in this dysfunctional brain mechanism.
Barney encouraged attendees to think beyond alcohol and opioids as causes of addiction. A portion of his presentation was about the addictive similarities between high-fructose corn syrup and illegal substances like cocaine. He also described pathological behaviors observed in social networking and smartphone use.
2. Continuing use of drugs
The feeling of well-being, the severity of withdrawal symptoms and the fear of negative consequences drive continuing use of addictive substances. When the feeling of well-being is triggered, addiction can follow a behavior pathway from like to want to need to crave. Hunjadi described his need for continuing opioid use to stave off the symptoms of withdrawal or being dope sick.
Addicts will break the law, and often do when diverting drugs from their EMS service or hospital, if needed to fulfill the brain's craving for the reward. Laws can encourage good behavior but can't stop the intensifying necessity to fulfill the brain's craving for more of the drug.
3. Treatment is possible
Addicts need to replace the abnormal or dangerous behavior with something else. Survival for an addict depends on fulfilling the craving. Punishment does not fix the addiction cravings and addicts will continue the behavior despite negative consequences.
Legal action, what Barney feared most, is exactly what happened when he finally sought help. Messaging that tells addicts to ask for help is counterproductive if the ask for help is met with arrest and other legislated punishments.
Barney explained that abstinence is part of recovery, but abstinence doesn't equal recovery. In early abstinence, the brain is still driving the addict to repeat the use of drugs. Specific recovery skills are necessary through counseling, meetings and understanding the root cause of addiction.
The session concluded with a discussion about the work involved in recovery and possible predictors to successful recovery. Barney believes that the more an addict has to lose, when the stakes are still high, recovery is more likely. A support network of concerned family, friends and co-workers are also important to recovery. Barney, because of his status as a physician, had a lot more to lose and thus greater motivation than the homeless, lifelong addicts he now works with at a shelter.
How to get help and learn more
Help and treatment is available for the brain disease of addiction. Starting options include talking to a trusted friend or family member, pastor or religious advisor or a physician. Many EMS providers also have access to an employee assistance program. Anyone can call the Substance Abuse and Mental Health Services Administration national helpline, 1-800-662-HELP (4357), which is a confidential, free, 24-hour-a-day, 365-day-a-year, information service in English and Spanish for individuals and family members facing mental and/or substance use disorders. This service provides referrals to local treatment facilities, support groups and community-based organizations.
Check out these articles to learn more about addiction.