Medicaid paying for methadone, addiction screening and naloxone in W. Va.
Medicaid has begun paying for additional services and treatment options for low-income addicts, including screenings, methadone and naloxone
---
By Erin Beck
The Charleston Gazette
CHARLESTON, W. Va. — Medicaid has begun paying for additional services and treatment options for low-income West Virginians with addiction problems, including screenings, methadone and naloxone, according to a news release.
The West Virginia Department of Health and Human Resources announced earlier this month that Medicaid began paying for the additional treatments and services on Jan. 14. In July, Medicaid will begin allowing West Virginia providers to bill for additional services, including 30-day stays at residential treatment facilities and peer recovery support services.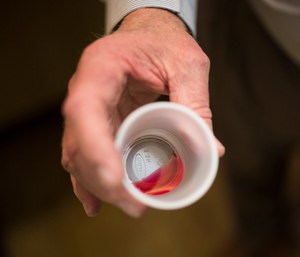 "Considering West Virginia has the highest overdose rate in the nation, we are excited to offer the first phase of services from our federal waiver," Cindy Beane, commissioner of DHHR's Bureau for Medical Services, said in a statement. Neither she, nor Jeffrey Lane, a DHHR employee who is overseeing implementation, returned calls in time for this report.
In July 2015, the federal Centers for Medicare and Medicaid Services sent states a letter, informing them of a substance use disorder treatment waiver program, allowing states to use Medicaid in new ways to treat substance use disorders. CMS told state officials that under Section 1115 of the Social Security Act, they could "test Medicaid coverage" of more types of substance abuse treatment, but must demonstrate improved care and be budget-neutral — meaning the program pays for itself because people helped by the services don't have to seek as much of other types of health care, such as emergency room visits.
The state applied for the waiver in November 2016, and announced in October that CMS had approved the state for a five-year project.
According to the news release, the services covered during the first phase include:
Screening, brief intervention, and referral to treatment (SBIRT): "West Virginia will implement statewide use of the widely-accepted SBIRT screening tool to identify [substance use disorder] treatment needs among the Medicaid population," the release says.
Kim Miller, an addiction specialist and spokeswoman at Prestera, said that the community mental health center already screens its clients for addiction. But she added that more screenings are needed at other providers, like family doctors, who may see people with addiction problems who aren't seeing the doctor for a mental health or substance abuse issue.
Naloxone distribution: "West Virginia will design and implement a statewide initiative to make naloxone [Narcan®] widely available and increase awareness of the benefits of naloxone in reversing the effects of an overdose," the news release says.
Dr. Rahul Gupta, state health officer and commissioner of the DHHR's Bureau for Public Health, said CMS is allowing EMS agencies, which are already Medicaid billers, to bill for using naloxone to revive patients, and for referring them to treatment.
Methadone treatment and administration: Medicaid will pay for methadone "as a withdrawal management strategy, as well as the administration of methadone, monitoring of the medication, and related counseling services," the release says. Medicaid will cover methadone clinic providers linking patients with other providers and referrals to HIV and hepatitis B and C testing, among other services, according to the letter from CMS.
Miller said the waiver may help reduce some of the stigma that comes with paying cash for methadone, which keeps people with addiction problems from seeking help.
Beginning in July, the waiver allows service providers to begin billing Medicaid for peer recovery support services — meaning help recovering from drug addiction by people who've been there, typically called peer mentors. Facilities like Rea of Hope and Recovery Point in Charleston offer peer recovery services, but couldn't bill Medicaid unless they became licensed behavioral health centers.
Also in July, the waiver allows residential treatment facilities, such as Prestera's Pinecrest facility in Huntington, to begin billing for 30-day stays at the facility. Prestera also employs peer mentors.
Copyright 2018 The Charleston Gazette