Professor fatally shot at Miss. college
The shooter is still at large and is believed to be a fellow professor
---
By Jeff Amy and Emily Wagster Pettus
Associated Press
CLEVELAND, Miss. (AP) — A professor was killed in his office at Delta State University in Mississippi, forcing terrified students and teachers to hunker down in classrooms as investigators searched for another school employee in connection with the killing, officials said Monday.
Investigators are searching for Shannon Lamb, who was initially identified as a person of interest and is now considered a suspect, Cleveland Police Chief Charles "Buster" Bingham said. Police do not yet know a motive in the slaying of Ethan Schmidt, a history professor at Delta State.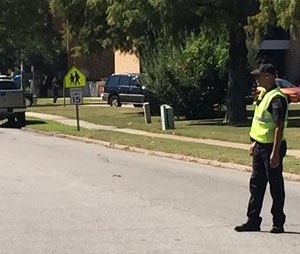 Bingham said Lamb is considered armed and dangerous but is not believed to be on campus anymore.
Lamb received a doctorate in education from Delta State University in the spring 2015, according to a copy of his resume posted on the university's website. He started working there in 2009 and taught geography and education classes, and volunteered with Habitat for Humanity, according to the resume.
Lamb also has been linked to a slaying in Gautier, about 300 miles away in south Mississippi, though authorities have not provided many details about that slaying.
Gautier police spokesman Matthew Hoggatt told The Sun Herald that a woman was found dead in her home, and that Lamb is the suspect in her death.
"We're working right now under the assumption that both events are related," Hoggatt said. "We hope that they are not. But at this point in time, information indicates that they probably are linked in some way, shape or form."
Mississippi Highway Patrol spokesman Johnny Poulos said investigators are searching for a black 2011 Dodge Avenger that they believe Lamb is driving.
The 3,500-student university in Cleveland, in Mississippi's Delta region near the Arkansas-Mississippi state line, was first put on lockdown around 10:45 a.m. amid reports of an active shooter. Everyone on campus was told to take shelter, away from windows.
Charlie King was in a history class down the hall from where the shooting occurred.
"A few minutes into the class, we heard these popping noises and we all went completely silent," he said.
Some people thought that it might be a desk or door closing or firecrackers, but King said he thought it sounded like gunshots. A few minutes later a police officer — gun drawn — burst into the windowless room and ordered everyone to get against the wall away from the door. Some people also hid in a storage closet, King said. The officer didn't explain what was going on, but King said the students understood.
"We put two and two together," he said. The professor gave the students chairs to throw if the shooter came in, said King's friend, Christopher Walker Todd.
Eventually police ushered the students into another building and questioned them about what they'd seen and how many shots they heard.
Freshman Noah Joyner, 18, was in his dorm building when reports of an active shooter began to spread. He hunkered down in a bathroom and heard others desperate to get in.
"There were like people banging on the doors to have somebody let them in," said Joyner, a swimmer at the college. "It was pretty terrifying."
Charly Abraham was teaching a class of about 28 students at the university's Delta Music Institute when he and the students received a message through the university's alert system.
"Everybody's phone just sort of went off at the same time," Abraham said. Then a staff member came in and told them that the campus was on lockdown.
"We discovered it was something very serious when we started getting text messages from people all over the world," he said.
Eventually, about two hours or so after the initial lockdown, about 25 heavily armed police officers swept through the building, Abraham said. All of the students were sent back to their dorms and other people such as faculty and students who live off campus were sent to the university's coliseum, Abraham said, though most were later allowed to leave.
The slain professor directed the first-year seminar program and specialized in Native American and colonial history, said Don Allan Mitchell, an English professor at the school, who called him "a gentleman in every sense of the word."
"Dr. Ethan Schmidt was a terrific family man, a good friend, a true son of Peabody, Kansas, and his beloved Emporia State University," he said.
One of his history professors at Emporia State University described him as one of the "brightest students" she'd ever taught.
"He was a super competent human being. He was president of his fraternity, in student government. He was an absolutely delightful student," said Karen Manners Smith.
King, one of the students who was in Jobe Hall when the shooting happened, attended the same Episcopal church as Schmidt. King was studying history, and Schmidt was his adviser.
"I looked up to the man," King said.
Associated Press writers Kevin McGill, Rebecca Santana, Alina Hartounian and Roxana Hegeman contributed to this report.
1 dead in Delta State University shooting http://t.co/yiphlpl1Ri pic.twitter.com/tA4s8zvEOg

— WJBF (@WJBF) September 14, 2015
Emergency management has set up command center. MS Governor's office and IHL have offered their assistance. Campus remains locked down.

— Delta State (@DeltaState) September 14, 2015