Rural Ore. fire, ambulance agencies seek approval to merge
The agencies are seeking support to create a ballot measure to approve the merger, which officials say would improve service
---
Emily Thornton
Walla Walla Union-Bulletin, Wash.
UMATILLA COUNTY, Ore. — Leaders of three rural Oregon fire departments and an ambulance district — which formed a single agency through an intergovernmental agreement last year — are asking voters whether they support merging the four into one.
The decision would be placed on the May 19 ballot if voters gave positive feedback at ongoing town halls, and if passed, could change residents' taxes for emergency services. But that depended on where they lived, as some were already paying the maximum allowed by state law. Leaders have until March 19 to file the joint agency resolution for the ballot, which may be called East Umatilla Fire & Rescue, with headquarters in Weston.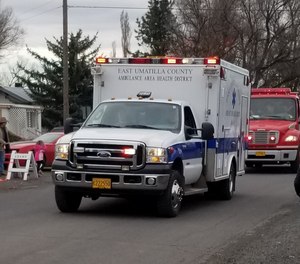 East Umatilla County Rural Fire Protection District, East Umatilla County Ambulance Area Health District, Athena Volunteer Fire Department, and Helix Rural Fire Protection District have been responding, training and managing as one district since July 1, 2019, said Chief Dave Baty of the EUCRFPD.
"Since then, it's (the IGA) gone really, really well," he said. "There are several advantages (for merging)."
One of those would be savings on auditing, Baty said. Due to law, agency budgets have to be audited by an outside entity, which costs money based on the agency's size. The cost, he said, could run from $80 to thousands of dollars. By forming one agency, he said $10,000 to $15,000 "would be saved immediately."
Having an IGA also caused three sets of financial records to be kept, he said, which was difficult for the bookkeeping contractor.
Another reason Baty said merging made sense was the agencies' districts were taxed differently, causing some to pay much more than others. Forming one agency would enable everyone to have a "level playing field," he said.
HRFPD covers 188 square miles and residents paid 43 cents per $1,000 of assessed property value for fire protection, Baty said, while Athena residents were covered by the city's $30,000 per year donation.
Additionally, he said EUCRFPD, which covered 240 square miles, was paid for by residents' $1 per $1,000 assessed property value.
The ambulance district, which covered the fire agencies plus some, already has been covered by $1 per $1,000, Baty said.
The proposed tax rate for all districts would be $1 per $1,000 for fire service, besides their current $1 per $1,000 for ambulance service, bringing in at least an additional $120,000 for the joint district, as well as its thousands of dollars in grants. The estimated annual revenue would be $413,000, Baty said.
The EUCRFPD received about $83,000 in grants last year, he said, as well as the Assistance to Firefighters Grant (through the Federal Emergency Management Agency) for a new, $325,000 water tender, which will arrive in July.
"I think we can do a pretty good job with that," Baty said. "We're not doing it for an increase in funds… We can raise the level of service."
However, a "no-man's land," west and south of Helix, remained in question as far as fire protection and taxing, Baty said. The area, of which he said he wasn't sure of the square mileage, had no designated fire department, so dispatchers just sent the closest responders, especially when lives were at risk. He said some residents hired other locals for fire protection.
Meanwhile, Baty said service was "the most basic that was expected," but the mostly-volunteer agencies were doing the best with what they had.
One of the things Baty said he was proud of was response time. The average time for all agencies' volunteers to leave their home/work, drive to their station, grab their gear, head to the emergency and arrive was 11.91 minutes in 2019, Baty said. Not to mention the response area grew in 2017 to about 430 square miles (with the combined agencies) and calls increased in 2019 by 72%.
Umatilla County Commissioner John Shafer, a former 911 operator, said he "would have been happy with 15 minutes."
———
©2020 Walla Walla Union-Bulletin (Walla Walla, Wash.)
McClatchy-Tribune News Service