Md. volunteer EMT has lived at fire station since start of pandemic
Pikesville EMT John Schretlen, 26, joined the department in February and has worked on the ambulance almost every day since the pandemic began
---
By Laura French
PIKESVILLE, Md. — A Maryland volunteer EMT who graduated last fall and was sworn in this February has been living at the fire station since the beginning of the COVID-19 pandemic. 
Pikesville EMT John Schretlen, 26, told U.S. News & World Report that he has offered to work in the ambulance almost every day since the pandemic hit because "a lot of folks at the volunteer company and at many other companies are older and have families. But I am young and relatively healthy and I can afford the opportunity to quarantine," Schretlen said.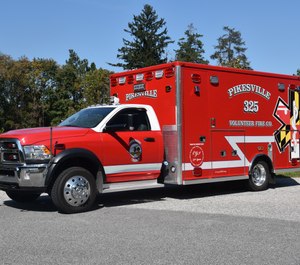 Schretlen moved into the bunk room of Pikeville Volunteer Fire Company station as soon as the crisis began. In the past few months, he has responded to hundreds of calls, many involving COVID-19 patients. The Pikesville station serves a community that includes many retirement homes and assisted living facilities, Schretlen said. 
Schretlen described one call involving a nursing home resident suspected to have COVID-19, who was unresponsive and had a do not resuscitate order. Schretlen spoke with the woman's distraught son and says he believes the son may have called an ambulance as his only way to see his mother one last time due to visitor restrictions at the nursing home. 
The EMT said the call gave him a new perspective about the human impact of the pandemic and the importance of his work. He added that two worst fears are passing the virus to his mother and not being able to continue volunteering if he caught the virus.