Fire/EMS department collects toys, food during its annual Santa Run
For the Cromwell Fire Department, a combined paid and volunteer department, the Santa Run and tree sale are a great volunteer recruitment opportunity
---
CROMWELL, Conn. — The Santa Run is an annual event of the Cromwell Fire Department to collect toys, nonperishable food items and cash donations for their community on Dec. 12.
The department's members decorate apparatus with garlands and lights. A Santa rides on each vehicle as they drive every street in town, never crossing paths, collecting donations.
"An added benefit of the Santa Run is the great exposure it gives the department's volunteer recruitment program," said Nancy Magee, an EMS1 columnist and volunteer-EMS consultant.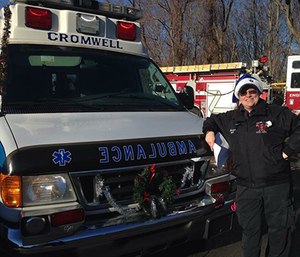 A paid chief and seven full-time firefighter/EMTs staff the Cromwell Fire Department. About 70 volunteer members assist in preservation and protection of life and property, and provide EMS care and ambulance transportation to all residents and visitors.
The department also has a wreath and tree sale every weekend at the station.