Conn. ambulance to end services, citing 'volunteer model no longer viable'
Hampton-Chaplin Ambulance Corps was established in 1954 initially serving the Town of Hampton under the name: Leslie L. Jewett American Legion Ambulance
---
By Traci Hastings
The Chronicle, Willimantic, Conn.
HAMPTON, Conn. — The Hampton-Chaplin Ambulance Corps has announced it will answer its last call in 2020.
The service, originally serving the Town of Hampton, was founded in 1954 as the Leslie L. Jewett American Legion Ambulance.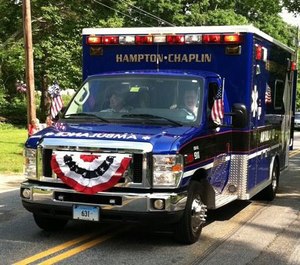 It was renamed when the coverage area extended to Chaplin.
"During our entire history, we have never, and are not now, affiliated with any fire department," the ambulance corps stated in a press release this week. " The Hampton-Chaplin Ambulance is one of the few remaining, completely volunteer, Emergency Medical Services-based only services in northeast Connecticut."
According to the announcement, in 2018, the ambulance corps began discussions with the boards of selectmen from each town.
Those talks centered on the difficulty in recruiting and retaining emergency medical technicians, who must meet lengthy state requirements to be certified, at the same time as facing an increase in emergency calls.
"After much research and discussion, the Hampton- Chaplin Ambulance Corps has come to the conclusion that the volunteer model of ambulance service in our area is no longer viable. As of April 1, 2020, we will cease operations," reads the statement.
The first selectmen of both Hampton and Chaplin said they had been considering multiple alternatives.
"I've contacted several potential ambulance providers, but it's too soon to say what we're going to do," said Chaplin First Selectman William Rose IV.
He said he hoped to be able to review ambulance billing records soon.
"We can't really do anything until we know what the insurance income is," Rose added.
Hampton First Selectman Allan Cahill said he, too, had been in early discussions for potential contracted services with other entities.
"We've been meeting all summer to see what the next course of action is," Cahill said. "We have our work cut out for us in the next couple of months to come up with a plan."
Cahill also said he was grateful local citizens could rely on the Hampton-Chaplin Ambulance Corps for this long.
"We've been very fortunate for the decades of service of the Hampton-Chaplin Ambulance Corps," Cahill said. "We've had a professional skill set in a volunteer mode of service."
The ambulance corps statement noted this course of action, like all the other ones taken by the service, was made in the best interest of the community.
"We appreciate the cooperation of the town leaders in evaluating and responding to the issues facing our volunteer service," the press release concluded. "We are grateful to the citizens who first created the Leslie L. Jewett American Legion Ambulance.
"We also offer sincere gratitude to every EMS provider who has ever devoted time, dedication and compassion to the people of the communities of Hampton and Chaplin.
"While it is the end of an era, and the regretful end of our service, we are extremely proud of the commitment and professional emergency medical care that we have provided for the last 55 years."
———
©2019 The Chronicle (Willimantic, Conn.)
McClatchy-Tribune News Service