Ark. volunteer EMS officials raise concerns as city considers full-time service
Fairfield Bay EMS members said the volunteer service is important to the community and provides adequate coverage
---
By Laura French
FAIRFIELD BAY, Ark. — An Arkansas volunteer EMS service is raising concerns about the possibility of a full-time service being brought into the city. 
Fairfield Bay EMS providers said the introduction of a new service could lead the volunteer operation, which has covered the city for nearly 50 years, to close, according to FOX 16. Fairfield Bay Mayor Linda Duncan said the city, which is home to the Fairfield Bay Resort, is exploring the option of bringing in a full-time ALS service due to volunteer staffing shortages.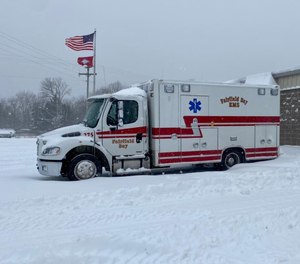 "This is not about the quality of care provided by our award winning EMS Volunteer Service. The City and all residents are blessed and proud of the service our volunteers provide, they put their heart and souls into each and every call they make," Duncan said in a statement, according to Lake Area Weekly. "But over the past couple of years the number of citizens willing to volunteer their time to offer 24/7/365 coverage has declined and the City [is] obligated to [provide] 24/7/365 coverage to our citizens and resort guests." 
Fairfield Bay EMS currently provides BLS services in the city, and ALS services are provided by Van Buren County paramedics. Volunteers said response times average about five minutes and that county paramedics are stationed right outside the city gates to respond if they are needed. 
Fairfield Bay EMS members also said that personal connection between volunteers is invaluable. 
"They come here [to Fairfield Bay] because of the ambulance service and because of the volunteerism we have in the city," Fairfield Bay EMS member Roger Brock told FOX 16. 
The agency wrote on its Facebook page that the next city meeting to discuss the issue is scheduled for March 29.