Va. EMT airlifted to hospital after ambulance crash
An ambulance crashed into a guardrail after it blew a tire out, causing the driver to lose control of the vehicle
---
By EMS1 Staff 
GREENVILLE, Va. — An EMT sustained serious injuries in an ambulance crash after the rig blew a tire and crashed into a guardrail.
Augusta County Fire-Rescue Chief David W. Nichols said the driver lost control of the vehicle while transporting a patient to the hospital, the News Leader reported. During transport, one of the ambulance's tires blew, causing the driver to lose control and crash into the guardrail.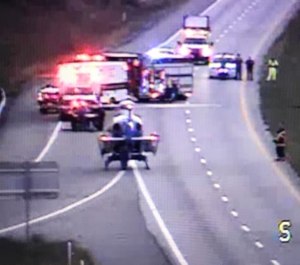 The EMT traveling in the back of the ambulance with a patient was injured in the crash. A medevac helicopter transported the EMT to the University of Virginia Medical Center in Charlottesville with serious, but non-life-threatening injuries.
Staunton-Augusta Rescue Squad responded to the ambulance crash scene and transported the patient to Augusta Health. The emergency responder driving the ambulance was not injured in the accident.