Fourth-grade victim killed by Texas gunman as she dialed 911
Amerie Jo Garza, 10, "was a hero trying to call 911, to save her and her friends," her grandmother said
---
By Leila Merrill
UVALDE, Texas — A 10-year-old student who was killed in the Uvalde school shooting tried to call 911 on her cellphone before the gunman shot her.
Two adults and 19 children were killed Tuesday at Robb Elementary School, including Amerie Jo Garza, who tried to call 911.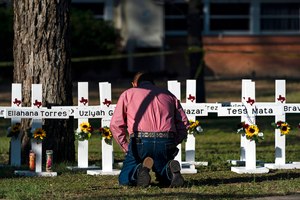 Her grandmother, Berlinda Arreola, told The Daily Beast and People that Amerie was a hero.
"He could have just taken her phone away," Arreola said. "He could have just broke it, done something. And he just shot her."
"She was a hero trying to call 911, to save her and her friends," she told People.
Amerie had received an Honor Roll certificate just before the shooting.
Her stepfather, Angel Garza, who is a medical assistant, rushed to the school soon after the shooting began, according to the Associated Press.
He saw a girl covered in blood as children were streaming out of the building.
"I'm not hurt. He shot my best friend," she told Garza as he offered help. "She's not breathing. She was just trying to call the cops."
Her best friend was Amerie.
All of the people killed at the school were in her classroom.