3 killed after propane tanks cause multiple explosions at Ga. home
Two other people were transported by ambulance, and a third was airlifted to a hospital in Barrow County
---
By Tanasia Kenney
The Charlotte Observer
BARROW COUNTY, Ga. — Three people died and three others were injured after a home caught fire and exploded, authorities in Georgia say.
The deadly incident unfolded just after midnight on March 11 in Barrow County, according to emergency services personnel.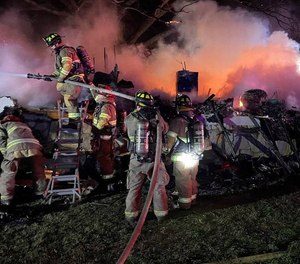 Fire rescue crews reported "multiple explosions were going off inside the home" and learned multiple people were trapped. Firefighters arrived to find the house fully engulfed in flames, causing it to collapse.
"Additional firefighters started fighting the fire from a defensive position due to the amount of fire and the multiple explosions," according to Barrow County Emergency Services.
Once the flames were contained, fire crews said they found multiple propane tanks in the home, as well as the bodies of three people killed by the explosions. Two other people were taken by ambulance and a third was airlifted to a hospital, authorities said.
Their conditions weren't known as of March 13.
"This is a very tragic event that resulted in loss of life and injuries to others," Barrow County Fire Chief Alan Shuman said in a statement.
Shuman thanked the fire crews and medics for their work and warned residents about the risks of storing propane tanks at home.
Authorities said the fire remains under investigation.
Barrow County is about 60 miles northeast of downtown Atlanta.
©2023 The Charlotte Observer.
Visit charlotteobserver.com.
Distributed by Tribune Content Agency, LLC.
McClatchy-Tribune News Service