'Tripledemic' forces Calif. city to limit EMS transports due to crowded EDs
The Fresno County Department of Public Health reinstated an "assess-and-refer" policy on Wednesday to ease the burden on hospitals
---
By Tim Sheehan
The Fresno Bee
FRESNO, Calif. — A fresh surge of serious respiratory infections – including COVID-19 and other ailments – is forcing health officials in Fresno and the central San Joaquin Valley to reinstate a policy that limits ambulance crews from transporting patients to hospital emergency departments unless the case is a true life- or limb-threatening emergency.
Dr. Rais Vohra, interim health officer for the Fresno County Department of Public Health, told The Fresno Bee on Wednesday that the decision to once again invoke an "assess-and-refer" policy came earlier in the afternoon. The decision is based on a need to ease the burden that hospital emergency rooms across the region are facing from a rapid increase in an array of respiratory viruses, including influenza, coronavirus and respiratory syncytial virus, or RSV.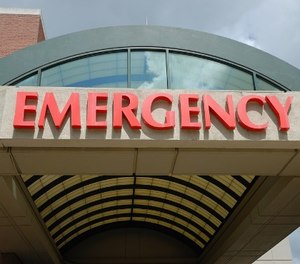 "Overall, our hospitals are very busy," Vohra told The Bee. "Our biggest hospitals in Fresno are way over capacity and really strained. … We need to decompress some of the emergency rooms and higher-acuity resources."
Vohra added that if ambulance paramedics and emergency medical technicians arrive and find that the patient does not have a life-threatening emergency, they work to refer the patient to a different source of care – their primary doctor, urgent-care clinics, or telehealth services instead of taking them to a hospital emergency department.
Over the past several weeks, the number of laboratory-confirmed COVID-19 cases, and the number of coronavirus patients requiring hospital care, has climbed significantly in Fresno County and across the Valley. In Fresno County, more than 1,000 new coronavirus cases were reported last week — the first time since early September that cases rose above 1,000. Two weeks prior, in the week ending Nov. 12, 467 cases were reported; that number climbed to 814 in the week ending Nov. 19.
The number of COVID-19 patients hospitalized in Fresno County for COVID-19 has more than doubled since early November, from 100 on Nov. 1 to 220 on Tuesday, according to data from the California Department of Public Health.
Unlike several previous rounds of assess-and-refer periods over the past 2 1/2 years, which were driven by COVID-19 patients requiring inpatient hospital treatment, this time it revolves around a confluence of other infections that create serious respiratory distress for patients. Of particular concern is RSV, which is placing a particular burden on pediatricians and pediatric hospitals including Valley Children's Hospital in nearby Madera County as a growing number of children come down with the disease.
"Things have taken a turn for the worse," Vohra said of hospital trends over the past two weeks. "And this time, it started with the kids."
Nationwide and throughout California, seasonal influenza is having a greater — and earlier — impact on the population than it has over the past two winter flu seasons when masking, social distancing and other measures encouraged to reduce the spread of COVID-19 also helped keep other respiratory infections in check, Vohra said.
But this fall and winter, with many of those health recommendations relaxed and people resuming a more normal course of activities without distancing and masking, and children returning back to classrooms rather than at-home remote learning, the range of other viruses are once again taking hold.
'It's not just three viruses'
Vohra discounted the idea of a "tripledemic" of COVID-19, influenza and RSV because "it's not just three viruses."
"We're not even talking so much about a COVID surge now," he said. "We know what works with COVID, but it's not just COVID. … This is a whole host of factors that strain the healthcare system."
"We've got workforce shortages in healthcare, bed capacity issues, and no real place or plan to flex during a crisis, …" Vohra added. "Our healthcare system is too fragile to handle surges like this."
This year, the flu season is ramping up faster. And among children, "the RSV curve is in some respects even worse than the flu curve," he said. "It's skyrocketed in the few weeks that it's been around."
The U.S. Centers for Disease Control reports that in the week ending Nov. 19, the positivity rate for people tested for influenza viruses in California was about 18%, compared with less than 6% at the start of the month.
Data from the federal agency for California also shows that for the week ending Nov. 26, the testing positivity rate for people tested for RSV was more than 30% – more than double what it was two weeks earlier, and almost five times what it was in early October.
"All of our statistics show us that the flu is going to be bad this year," Vohra said. "And the fact that the season is starting earlier this year means it could either end earlier or be a surge that lasts all the way into the spring. Everyone is just bracing for this storm."
What parents should know
Dr. Hovig Artinian, a pediatric pulmonary specialist with the UCSF-Fresno medical education program, said pediatricians are finding their hands full with children who are catching RSV at an alarming rate this winter.
"All these viruses have always been around for a very long time, and we as pediatricians have been taking care of all of these viruses for a very long time," Artinian told reporters in a recent media briefing by county health officials. "I think they got jealous because all you all want to keep talking about is COVID, and they're like, 'Wait, hold up. We're still here."
"They're still here and they can absolutely make kids very sick, as they always have," he added.
One particular concern is that infants and small children who are most susceptible to RSV have smaller airways that are more easily blocked by respiratory infections. "So when you start out with a smaller caliber of airway in the first place, and now you add that inflammation and swelling from becoming sick," Artinian said, "you take a kiddo who was totally fine when they're well and unfortunately they have difficulty moving air when they're sick."
Despite the potential for RSV and other viruses to make kids sick, "not every child that has a fever has to come to the emergency room," Artinian said. "In some ways, that can make it more dangerous for your child because now you're exposing them to lots of other things as well."
Artinian said parents need to keep an eye on their child for signs of respiratory distress. "If they're just breathing a little fast but they're able to speak in complete sentences, that's probably OK," he said. "But if you notice they're having trouble getting words out to speak full sentences, if you notice that their nose is flaring or they're sucking in their muscles to breathe, or if their head is bobbing if they're an infant, these are all signs that they're working really hard to breathe and that is no longer something that you should manage at home."
Vomiting and dehydration for children who cannot keep fluids down also can represent a dangerous situation for kids, Artinian added. "In infants, if you notice less wet diapers or they're crying and no tears are coming out, or in older kids you notice their faces becoming sunken or they're just not using the restroom, those are all emergency signs as well."
Because infants breathe through their nose and not their mouth, all that may be needed for many is a little help clearing music from their nostrils using an inexpensive suction bulb, available at most pharmacies.
"If an infant's nose becomes impacted with lots of mucus, then you run into developing respiratory distress," Artinian said. If the child's secretions are dry, a couple of drops of saline solution can moisten the material to be suctioned out.
"You don't stick the thing all the way up their nose," he said. "After squeezing the bulb, you're only going to stick the point of this suction bulb right at the tip of their nose … and then release the bulb and it will suction out the secretions."
©2022 The Fresno Bee.
Visit fresnobee.com.
Distributed by Tribune Content Agency, LLC.
McClatchy-Tribune News Service