The only house left standing: How a FF-EMT's house became a 'light on the hill' after a devastating tornado
Darrell Jennings and his family aided 28 neighbors in their living room after a violent EF-4 tornado tore through their Putnam County, Tennessee, neighborhood
---
At 1:58 a.m. on Mar. 3, 2020, a violent EF-4 tornado with winds up to 175 mph tore through Putnam County, Tennessee.
Twenty minutes prior, Darrell Jennings was sitting in his chair beside his bed, looking at four different radars and watching the news about storms forming west of Nashville. Eight minutes before the tornado struck his neighborhood, he received a tornado warning alert on his cell phone.
He quickly got up, put his fire department shirt on, grabbed his radio and walked to the back door of his house.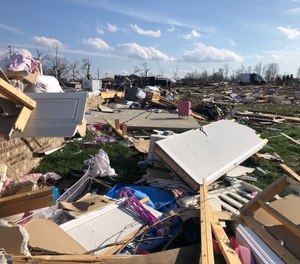 It was pitch black outside, but a nearby lightning strike illuminated an ominous yellow-gray sky.
Another clap of lightning revealed something even more frightening: a tornado taking the roof off a house about 1,000 feet behind Jennings' home. Then, immediately to the left, he saw a house explode. Debris was flying everywhere.
Seconds later, a powerful wind gust hit his house – blowing the door that he was standing against in about three-quarters of an inch. He jumped about 10 feet back into the hallway and started screaming against the loud whistling of the wind.
His wife and three children were still asleep.
Rushing to wake the others, Jennings first threw his daughter's door open, yelling at her to get out of bed. The house, which was built in the early 70s, didn't have a safe room. Instead, Jennings and his daughter, along with his wife and two sons, made it to their hallway.
Seconds later, a truss came through his daughter's window and obliterated her room with shards of glass.
As the Jennings were kneeling in the hallway, the tornado spun over their house. The noises were terrifying – it sounded like a freight train was repeatedly slamming vehicles onto their roof, Jennings recalls.
Within 30 seconds from inception, the tornado was gone.
After getting his bearings, Jennings walked out his front door to see what kind of damage the tornado left behind. He wasn't prepared for what he saw next.
Everything was gone
Another clap of lightning showed a grim sight: every house in Jennings' neighborhood was gone – except his.
"I turned to the right and looked down in front of my house and I saw a floor system and a foundation, but there was no house," Jennings recalled. "There was nothing left. I don't even remember the emotion at that point. I think it was mostly fear and adrenaline. Then, stunned and saddened."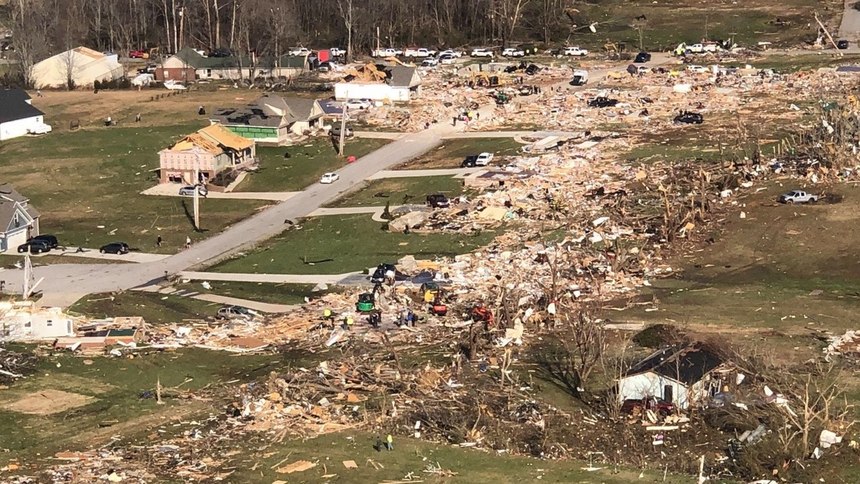 For 46 years, Jennings has lived in the same house and neighborhood. He moved to the neighborhood when he was 4 years old and later bought the house from his parents.
"I watched this whole area grow up. I watched it change from corn fields to neighborhoods. We planted an oak tree in my front yard when I was seven. It was three-feet-thick when the storm took it out," he said.
As he panned around to the left, he glanced up a hill where there had been houses built before his. Nothing was there.
Three or four minutes after the tornado struck, he finally heard screams for help.
The tornado had knocked his neighbors out. "All of them were unconscious," he said.
He immediately got on his department radio and called for help.
'Nothing prepares you'
Jennings, who has served with Putnam County Fire for 32 years, joined the department when he was 18 years old. He serves as a firefighter-EMT, but has also taken over as public information officer and serves in the emergency operations center as one of the EOC reps.
He eventually stepped back from his full-time position and later became a volunteer for the department. And, when he's not volunteering, his daytime jobs keep him busy – he owns a construction company as well as a food manufacturing business.
Throughout his career, Jennings has been deployed to 10 other areas to assist communities devastated by tornadoes.
"Seven of those have been within the state," he said. "The three others were in Georgia, Alabama and Florida."
However, the tornado in his very own backyard, he says, has been the worst thing he's ever witnessed.
"I've seen a lot of death. I've seen a lot of accidents and things that were just horrific, but nothing prepares you for walking out your front door and just seeing the aftermath of that tornado."
Life, he says, still feels like he's in a blender.
'Can we come to your house?'
As his neighbors started waking up and screaming for help, Jennings and his wife started walking around the neighborhood with their flashlights.
"We walked over to the fence line between us and started helping them down. They walked off their floor system, down their front steps and through the front yard," Jennings said. "They said, 'Can we come to your house?' And, of course, we said, 'Come on.'"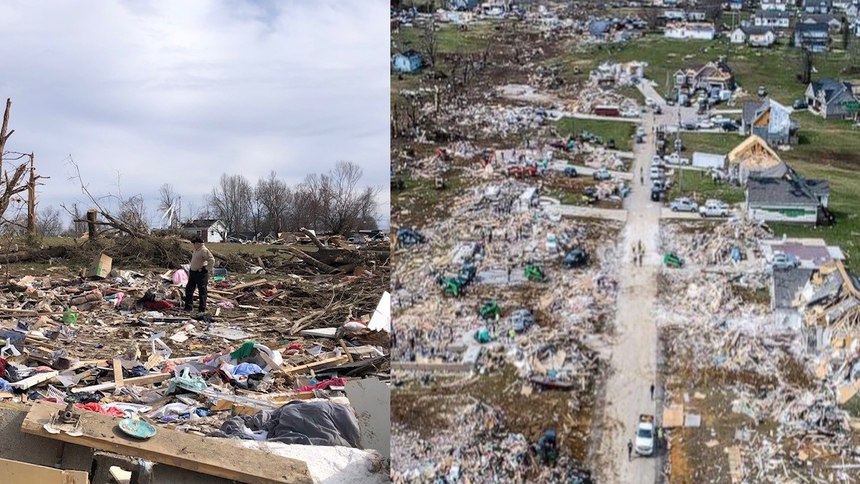 "Our immediate next-door neighbors, they were in a closet in the bedroom," he described. "The only thing left where they were was the carpet that they were sitting on. The padding was even pulled out from underneath the carpet. To see everything else that was gone, there's no reason they should have made it – that they were able to stay on that floor system when everything else was missing."
A tree in Jennings' front yard was blocking the road, making it impossible to drive injured neighbors to the hospital. Every other exit was blocked out of the area.
Setting up a makeshift triage center
Jennings quickly set up a makeshift triage center in his living room to help his injured neighbors.
"One of the neighbors from the subdivision had been picking up people who were injured," Jennings said.
One neighbor inside the car was 4-year-old Hattie Jo Collins.
Jennings' voice cracked; "She didn't make it. I assessed and checked a couple of things. She was gone already."
Then, Jennings was handed 2-year-old Harper Mynatt.
"She had a severe head injury and was hypothermic," he said. "She was soaked and cold."
Another neighbor was holding her two children so tightly in the bathtub that their ribs were broken on both sides. Neighbors were in shock.
"We became the hospital for our neighborhood," he said. "We had 28 people in our house. They were there for an hour to an hour and a half."
Among those caring for the injured were Jennings' own children – his 14-year-old son, Daniel; 17-year-old daughter, Megan; and 18-year-old stepson, Ian.
"They were caring for these patients in our living room," he said. "They were holding babies that were injured and calming them. Then, they carried those injured babies a quarter of a mile through the debris, past bodies of our neighbors and took those kids to the ambulance."
Meanwhile, Jennings' wife, Amy, who was raised in a medical family, moved from triaging neighbors outside, to coordinating care in the family home.
"It was like she was an ER doctor at that point," he said. "She didn't break nervous either. She jumped right in and bandaged what needed to be bandaged. But, the biggest thing she did was that she brought a sense of calm and clarity to each one of those family members that were in there."
Taking their care a step further, Jennings' children went into their closets and pulled out all of their clothes and every pair of shoes they owned.
"They started handing them out to people because they were in bed asleep when this happened," Jennings said. "They had nothing."
Eventually, the road near Jennings' house was cleared, and EMS was able to come in and transport his neighbors to the hospital. Later, Jennings' house was also used to distribute food and supplies to those in need.
'It just seems like it's a dream'
Nine people died in Jennings' immediate neighborhood.
"One of those was a guy I met three days after I moved in – in 1974," he said. "He became a very close friend of mine. It was him, his son and his babysitter. They were all three killed out of the same household."
Today, in addition to Jennings' family, five other families have returned to the neighborhood to rebuild. And, although Jennings' house was the only one left standing, it did sustain a significant amount of damage.
"We had $100,000 in damage to our house," he said. "We lost everything outside the house. The roof was significantly damaged, but structurally, our house was set. Our house was saved. It was kept safe for a reason."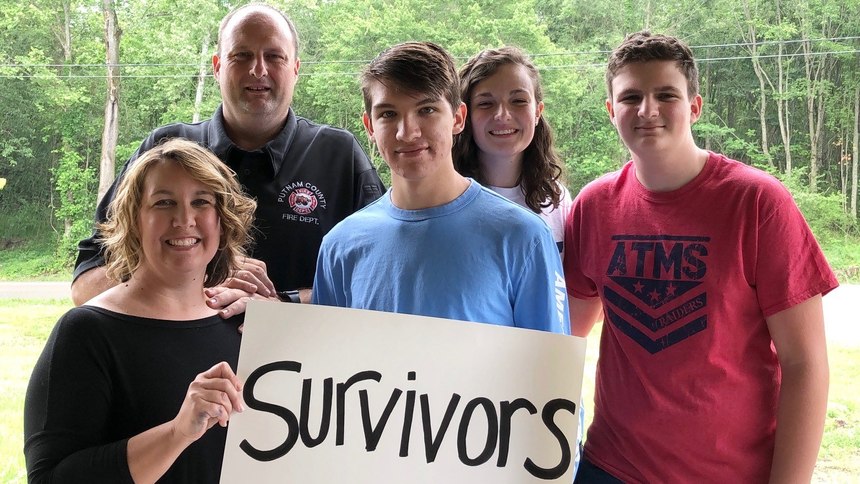 Many neighbors, Jennings recalled, said their house was like a light on the hill.
"When we were getting ready to move down to the church to the official triage area, our next-door neighbor, a little girl, looked up and grabbed her dad's leg and said, 'Daddy, I don't want to leave the only house that was left standing.'"
The tornado, he says, has been a life-changing experience.
"It has changed all of us," he said. "I will say, I think, for the better. You spend a lot of time going fast through life. We're a very busy family, but it really made us understand and think about time, and not to waste it."
One of the things that was destroyed during the tornado, Jennings said, was their camper. However, it was also the first thing they replaced with their insurance money.
"We hadn't gotten around to camping a lot in the last five or six years because we've just been busy with life," he said. "But we wanted to make a commitment to get away and enjoy time together – to have that downtime with our family."
The time to disconnect, he says, is important as their family – along with many of the other families in their neighborhood – continues to deal with their post-traumatic stress.
"We're still dealing with that, the mental side of it. It's an everyday thing for us," he said. "We saw a tribute video that was put out by a former neighbor and we still can't sleep. It had a lot of the video of the immediate aftermath. It just kind of retraumatized us."
The community has continued to come together to help each other, but it has been different since the tornado, he says.
"We're still in that healing process. It just seems like it's a dream, and, at some point, you're going to wake up and it's going to be back to normal. That's not going to happen. I think for everyone involved, they would say it's probably the most terrifying thing they've ever been through."
And although the neighborhood has changed forever, one thing remains the same: the light will stay on at the top of the hill – at the only house left standing.
Read next: Amidst exploding bullets, cars engulfed in flames, Ohio medics treat one of their own