DoD awards $7.2M to create autonomous trauma system for combat troops
The University of Pittsburgh School of Medicine and Carnegie Mellon University will work to develop artificial intelligence technology to better assist wounded troops in the field
---
By EMS1 Staff
PITTSBURGH — The U.S. Department of Defense (DoD) is awarding a $7.2 million to two research universities to develop artificial intelligence that can assist with trauma care for wounded troops on the battlefield.
The University of Pittsburgh School of Medicine (Pitt) and Carnegie Mellon University (CMU) will work together to develop AI technologies for TRauma Care In a Rucksack (TRACIR), according to a University of Pittsburgh Medical School (UPMC) press release.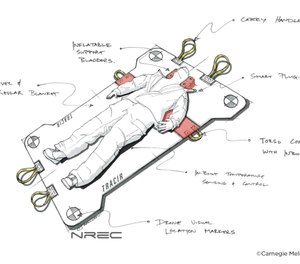 Researchers from CMU and Pitt will work to create medical interventions that extends the "golden hour" for wounded troops in remote locations until they can be medically evacuated.  
Through the TRACIR program, Pitt researchers and clinicians will provide CMU's roboticist and computer scientists real-world trauma data and medical algorithms to create a "hard and soft robotic suit" that an injured soldier can wear.
The suit will be able to monitor the patient and assess the type of injuries and the algorithms developed will guide appropriate critical intervention as needed. The suit will also be able to dispense stabilizing treatments, such as medications and intravenous fluids.
 "Battlefields are becoming increasingly remote, making medical evacuations more difficult," Ron Poropatich, M.D., lead principal investigator said. "By fusing data captured from multiple sensors and applying machine learning, we are developing more predictive cardio-pulmonary resuscitation opportunities, which hopefully will conserve an injured soldier's strength. Our goal with TRACIR is to treat and stabilize soldiers in the battlefield, even during periods of prolonged field care, when evacuation is not possible."
Poropatich said TRACIR could also be deployed by drones to hikers or mountain climbers injured in the wilderness or provide additional trauma capabilities to rural health clinics or aid workers responding to natural disasters.